Among our group of college friends, Susan is the romance novel expert. If you look at what she's read in the last year, you'd be disappointed to see that she's really only read about two, but you'll have to trust us when we say that five years ago, the only pleasure reading she did was romance novels, and she could write peer-reviewed papers on the subject.
Several months ago our book club had a question about why romance novels treat sexual harassment as though it were the sexiest form of flirtation, and that got us all thinking about what really makes a successful romance.
Well, wonder no more. We present Susan's carefully considered Romance Rubric, which we have begun to use in our recommendations to each other. As you can see, a superb romance will garner 18 points, and an awful romance will hover around 6. (There is no good reason to be reading a romance novel that looks like it will get below a 6. Honestly. Put the book down, and find some Austen fanfic instead.)
To show you how much fun it is to grade books with a rubric (and to test how much variation we can get between our scores), we're taking on some of the most buzzed-about YA sequences out there, starting somewhat arbitrarily with:
Daughter of Smoke and Bone
and
Cinder
were book club picks for us recently, and just like you can't have a conversation about wizardry without arriving at Harry Potter, it's impossible to start comparing YA romance-driven series without
Twilight
. Congratulations to
Cinder
for squeaking out a win over
Daughter of Smoke and Bone
in the romance department! Tough cookies, DoS&B, since Alyssa had a much more positive reaction to you. And soggy vegetables, Twilight Series, on your low score. (If you are at all interested in our snarky remarks written on the rubrics, you should be able to click on the photos and be linked to bigger, more readable versions of them.)
Daughter of Smoke and Bone
Karou studies art in Prague, but increasingly she is called to run errands for her foster father, a chimera who trades teeth for wishes. Although Karou doesn't know anything about chimera other than the kindness of her family, chimera are eternal enemies of angels, who have a new plan to win. The angel Akira means to kill Karou as he closes the doors through which the chimera obtain teeth, but something about Karou fascinates him and starts to bring life back into his otherwise dead personality.
Mixed bag from the book club on this one, with Alyssa's cooler urban fantasy taste finding it good and Susan's hang-ups over bloody teeth and POV changes much less forgiving.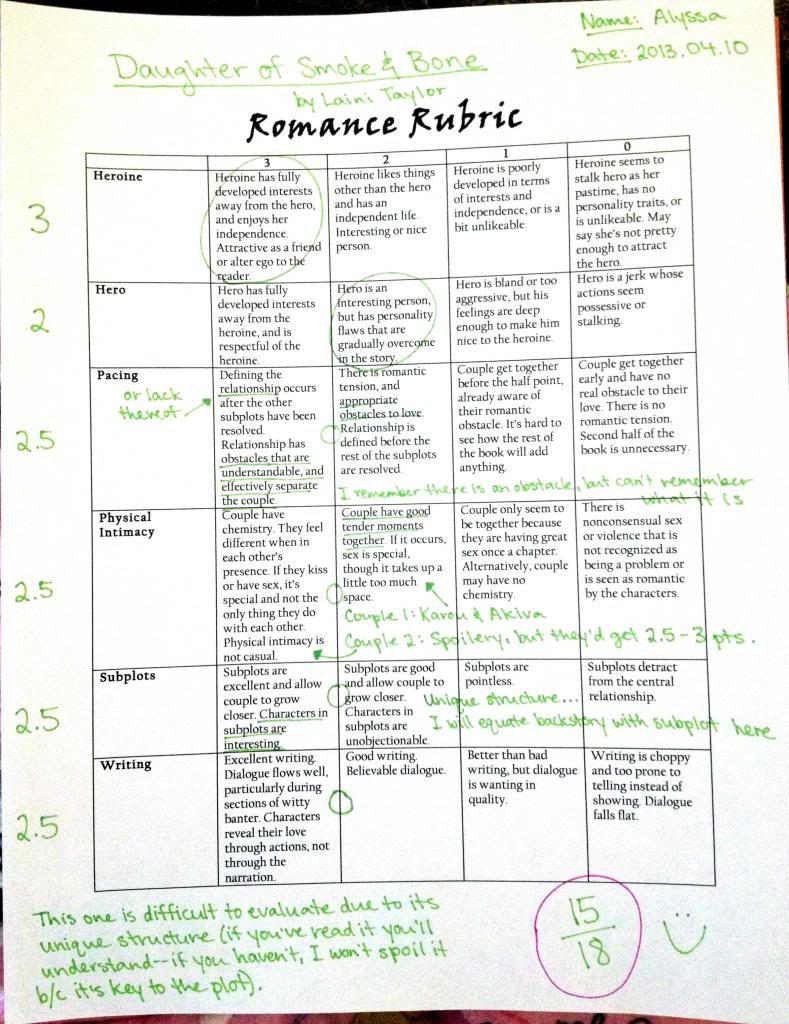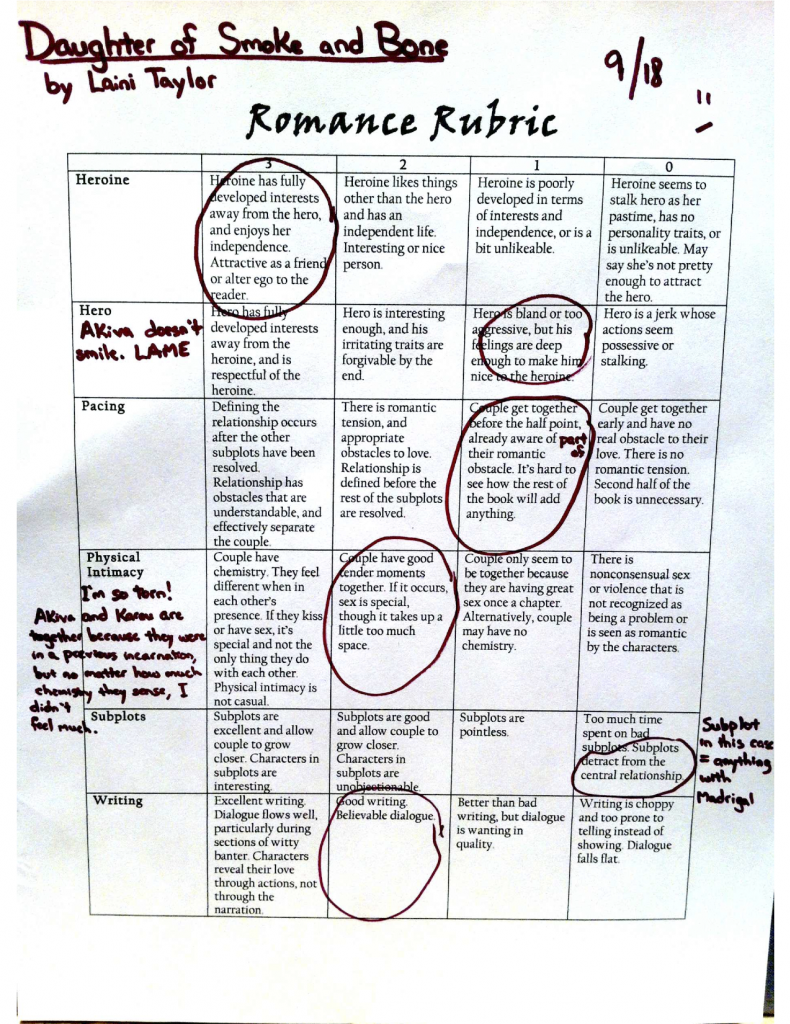 Cinder
Cinder is a young mechanic living in New Beijing with her adoptive father's widow and daughters. When Crown Prince Kai asks her to repair his trusted old android, Cinder and Kai find they have mutual respect for each other, but Cinder fears what will happen when Kai finds out that she's cyborg (having several mechanical body parts and some adjustments to her nerves). Meanwhile the country is facing a mysterious and deadly plague, and Kai's under pressure to marry the beautiful but cruel moon queen.
We tried to have a book club discussion about this book, and it came down to our agreeing that the book was fun to read, very similar to Sailor Moon, and not particularly thought-provoking.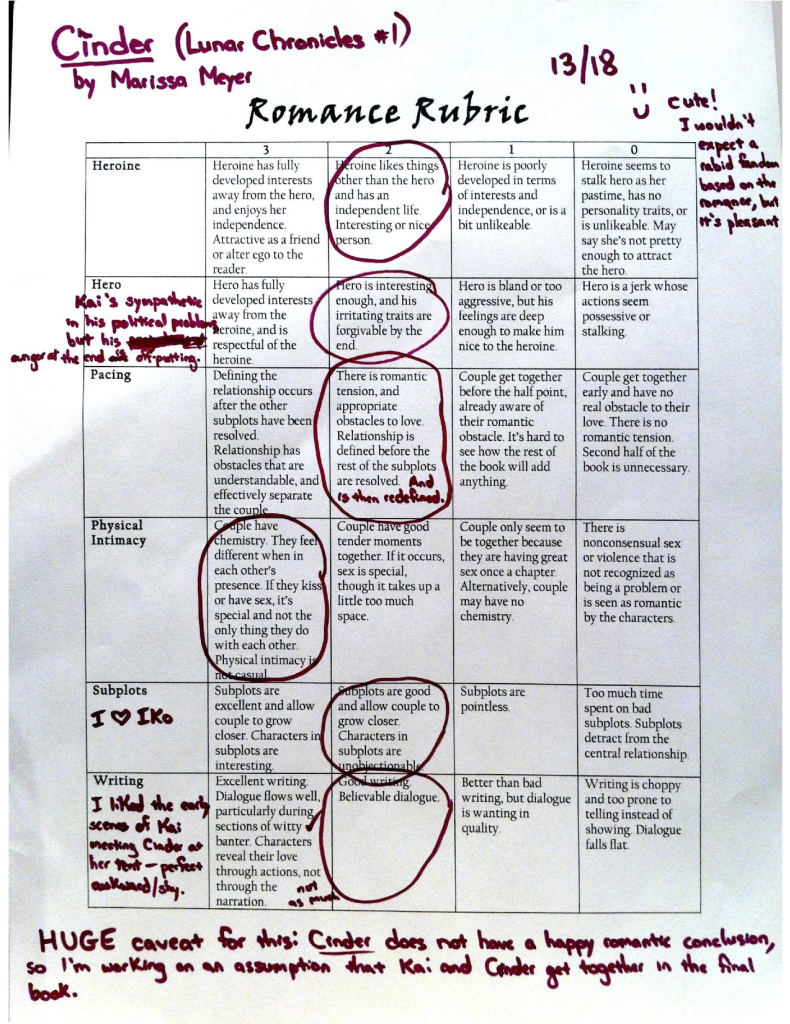 Twilight
We had relatively positive feelings towards Twilight back in 2006 (before some of today's Twihards could read...maybe even before some were born). Sure, New Moon was silly and pointless, but it seemed like a fluke publishing, kind of like sequels to rom/coms making it to movie theaters (Legally Blonde 2, Miss Congeniality 2, etc.). Unfortunately the books kept coming, and now we're part of that hip group that talks about the death of feminism in the age of Edwardian vampires. As you may guess, that doesn't make for high romance rubric scores: