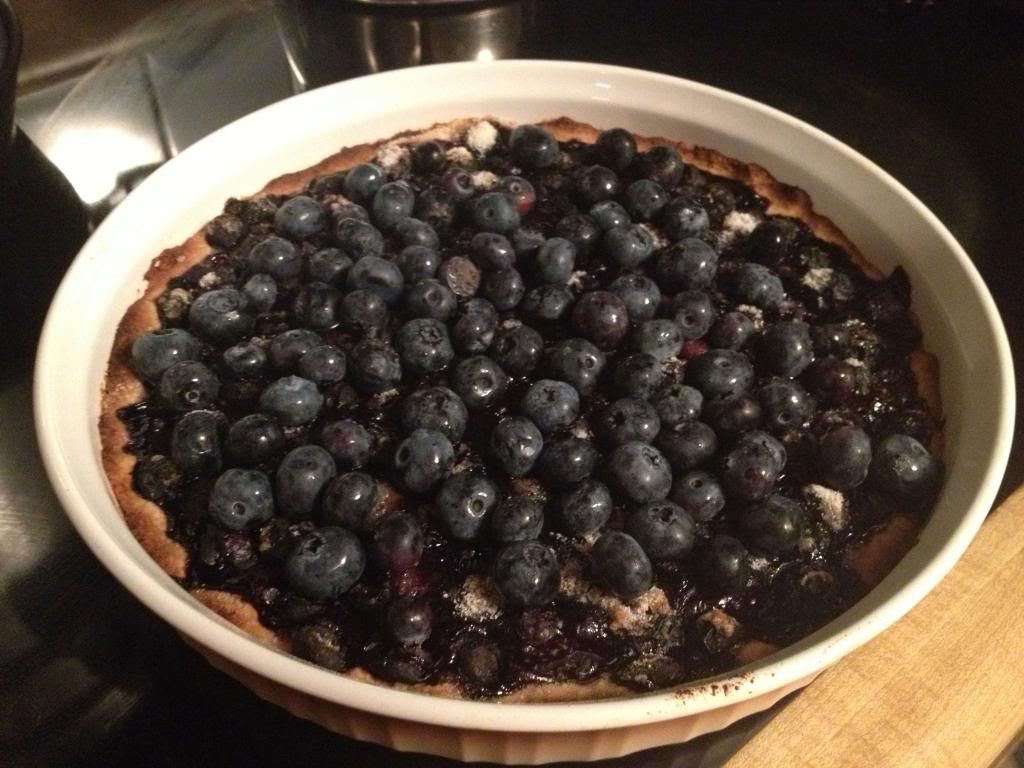 I had the pleasure of tasting this delicious tart-like concoction for the first time about a week ago, when my aunt made it for my cousin and me while we were in Minnesota (for more info regarding those adventures, explore here!). It was so delicious—sweet and mildly tangy blueberries atop a buttery, lightly sugared crumbly crust taste just the way summer should. My aunt doesn't remember where she originally came across the recipe, but I am very grateful to whomever and whatever was involved in the chain of recipes, people, and events that led to this one appearing in my family cookbook. So stop by the farmer's market or you-pick patch and take advantage of the blueberry bumper crop, if you can! This one's a real crowd-pleaser.
In my recreation of the recipe I did a few no-nos (which you will see in the photos and instructions below)… But it still turned out tasty, so it must be a recipe that's difficult to truly mess up! Woot!
Aunt Molly's Blueberry Kuchen
Dough
1 C. all-purpose flour
2 Tbsp. sugar
Pinch of salt
1 stick butter, softened
1 Tbsp. white vinegar
Filling
1/2 C. sugar
2 Tbsp. all-purpose flour
Dash of cinnamon
3 C. blueberries
Powdered sugar (optional)
Preheat the oven to 400° F.
Combine the flour, sugar, and salt for the dough in a medium bowl.

Then, work in the softened butter. No-No No. 1: I was in a hurry and had to soften my butter in the microwave, and ended up melting half of it. As a result, my dough was more dough-like and less crumb-like, but it tasted fine, so I guess all's well that ends well.


Sad melted butter.

Add the vinegar to the dough, and mix well.

Spread the crumbs (if you softened your butter correctly) or dough (if you're no-no prone like me) in the bottom of a 9" springform pan, tart pan, or casserole dish. As you're pressing it in, press it a little bit up the sides of whatever baking dish you end up using.
In another mixing bowl, combine the sugar, flour, and cinnamon for the filling, and then stir in 2 cups of the blueberries. No-No No. 2: Perhaps not technically bad kitchen technique (I really don't know), but I dumped in some fresh berries that had been frozen the day before and put them in the oven without defrosting. But they burst and got all gooey and delicious, so it turned out fine. Yay!

Pour the filling over the crust and spread it out evenly with the back of a spoon. Bake it in the oven for 45-60 minutes.

When the edges of the crust start to brown, you can take it out of the oven and top with your last cup of blueberries before letting it cool.
After it has cooled, you can dust it with powdered sugar, which looks really pretty and I imagine tastes particularly good if you have a tart batch of berries. Alas, I had no powdered sugar, but the kuchen was sweet enough on its own. Slice and serve, and be the envy of your friends!