Though I imagine summer is already long gone in most places, in my part of the world it was still in the 90s last week and has only just dipped into chillier temperatures. So for the last hurrah of warm weather and a long-due food-related post, I thought I'd revisit some of my cross-country dining spots on the road trip this past summer that took me to the
Laura Ingalls Wilder Museum in Walnut Grove
and the
Betsy-Tacy Houses in Mankato
, among other places.
Now, I love the TV show Diners, Drive-Ins, and Dives on the Food Network. I think it's so cool that there's a show that highlights the local mom-and-pop, something-different eateries around North America. It's even cooler that the show helps bring these places more business—people write in to the show to suggest their favorite local spots, the powers that be choose ones for host Guy Fieri to showcase with his unique blend of jovial humor, foodieism, and respect and appreciation, and people watch the show and are inspired to go try out these places for themselves. So after discovering the nifty Flavortown USA website, with its lists and maps of all the places featured on Triple D, my ma and I decided to hit up a few of the joints in the course of our summer road trip odyssey. We also visited a couple tasty places that, while on our own local food radar, have yet to be featured on the show. Who knows? Maybe you'll find yourself driving on the long highway through open country USA, when a belly-rumblin' hits and you find yourself in the vicinity of one of these fine establishments. Even if you're not, the Flavortown website is good for helping to break out of the fast food routine and find nearby Triple D locations, or to inspire an adventure to discover your own local treasure. Feeling hungry yet? All right people, let's look at some foodstagramming!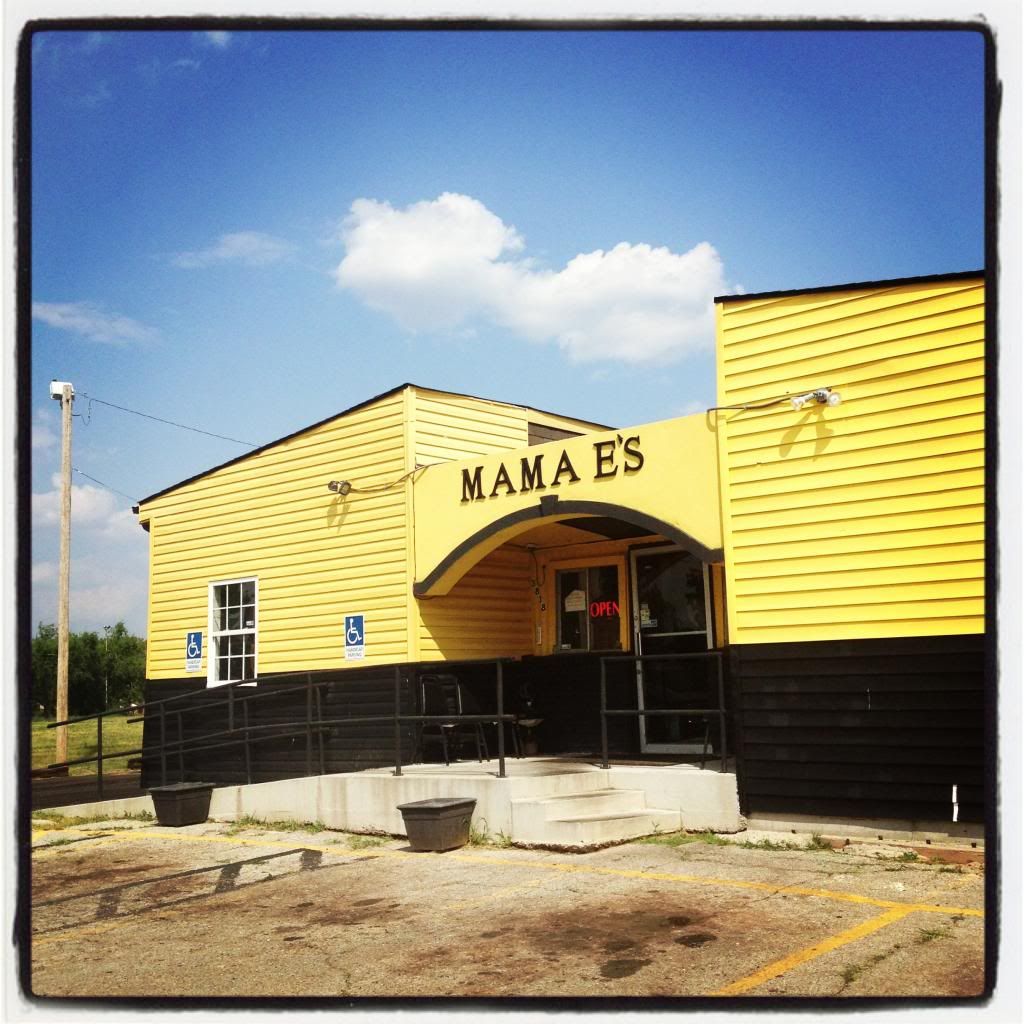 Mama E's Soul Food, Oklahoma City, Oklahoma. We relied on cell phone navigation to guide us to this place slightly off the beaten path, in a more residential area without many other restaurants or shops around. This no-frills establishment is located in a bright yellow structure that reminded me a bit of the portable buildings at my elementary school, but the food was darn tasty! It was my first ever chicken and waffles experience, and the Guy Fieri special was written right on the menu chalkboard displayed in the ordering area. With our meal we got chicken, a waffle, a side salad, yams, a brownie, and all-you-can drink Kool-Aid for about $14 (if I remember correctly). It was more than enough for food the both of us, and we ended up tucking the yams and brownie in our cooler for a car snack later. It looked like many a visitor had left their mark on the restaurant's walls, but I was too shy to ask for a marker and add mine! Located at 3838 Springlake Dr., Oklahoma City, OK.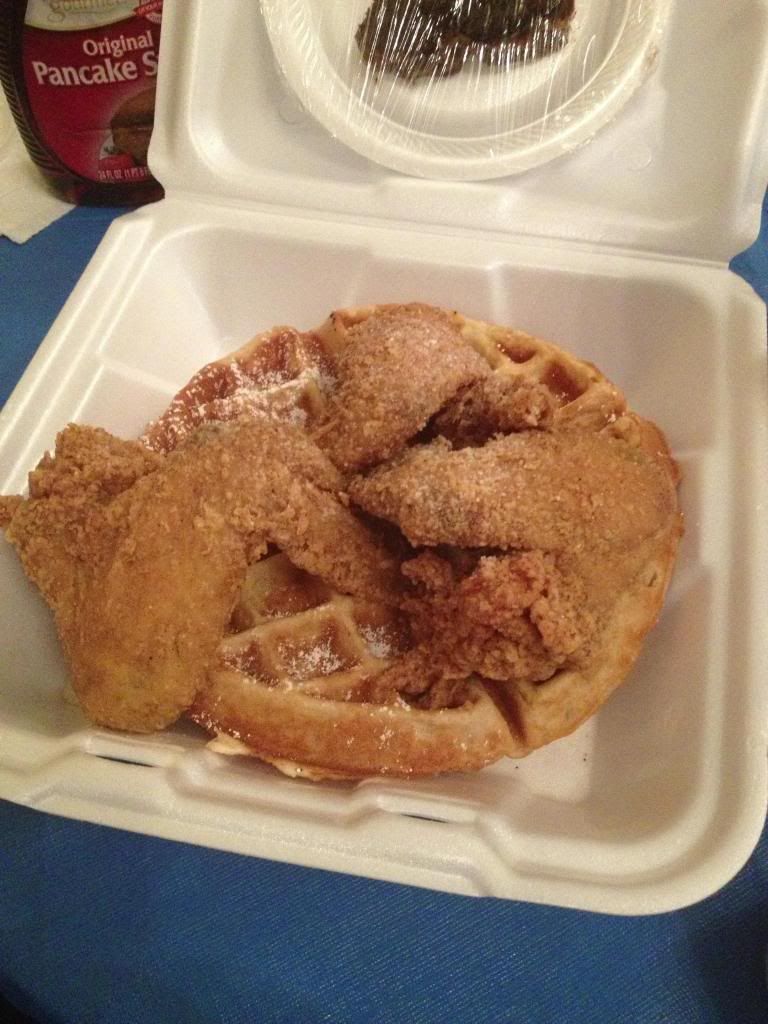 Crispy chicken + soft waffle = texture heaven!
Smokin' Guns BBQ, Kansas City, Missouri. Our next Triple D stop was BARBECUE. Can't go through Kansas City without trying it, right? As we are deviled egg aficionados, we ordered those to start with—they were pretty standard, with the restaurant's "sweet heat" rub to liven up the classic a little bit. (They were nommed too quickly for me to get a photo.) Ma got a turkey sandwich, which she expected to be smoked turkey (since it is, y'know, a bbq place), but if it was smoked she couldn't taste it. I, however, went all in with the spare ribs and sweet potato fries, which were also speedily nommed, as you can see in the photo. The barbecue sauce didn't make me get up and do a jig, but it was tasty. Overall, while not the best barbecue I've had in my life, it was good, and a sure sight better than the fast food options that we were blowing by on the highway. Located at 1218 Swift St., North Kansas City, MO.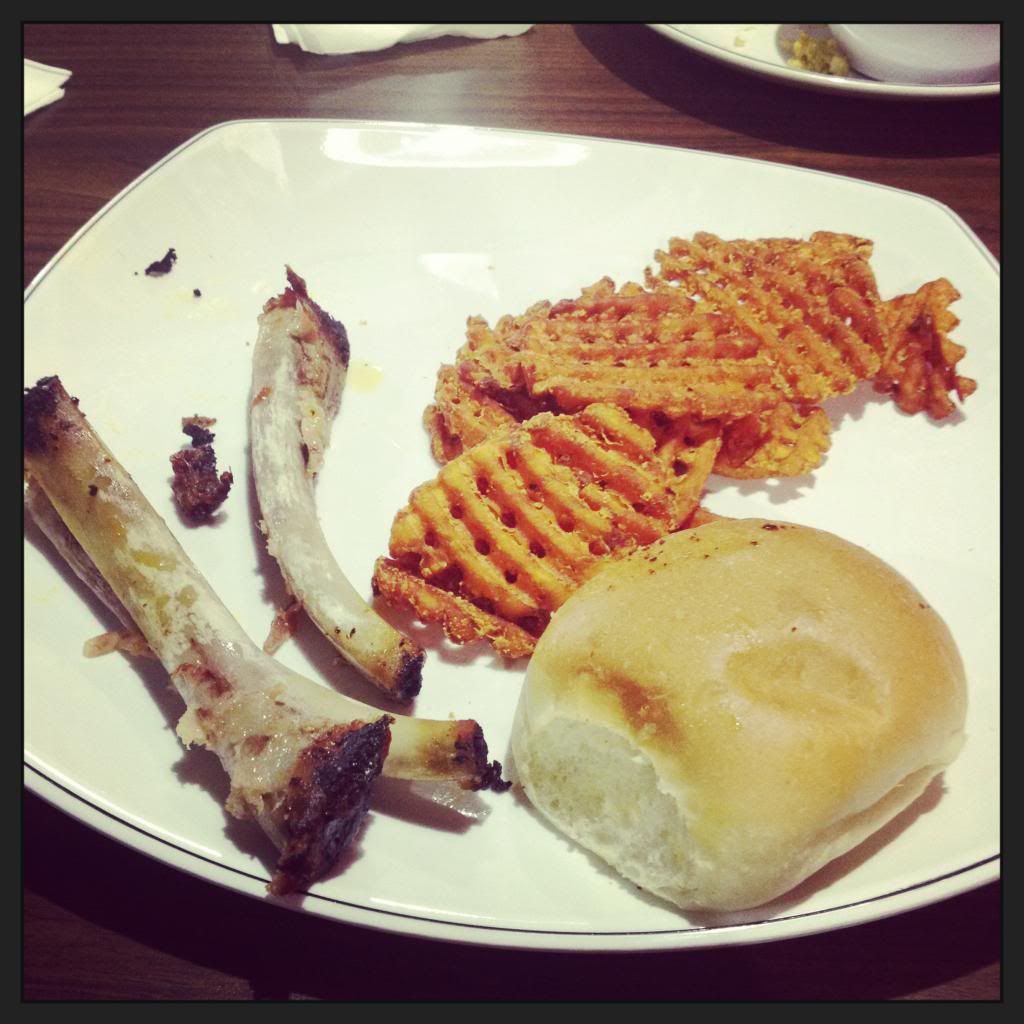 OMNOMNOMNOM. I mean, yes, delicious ribs!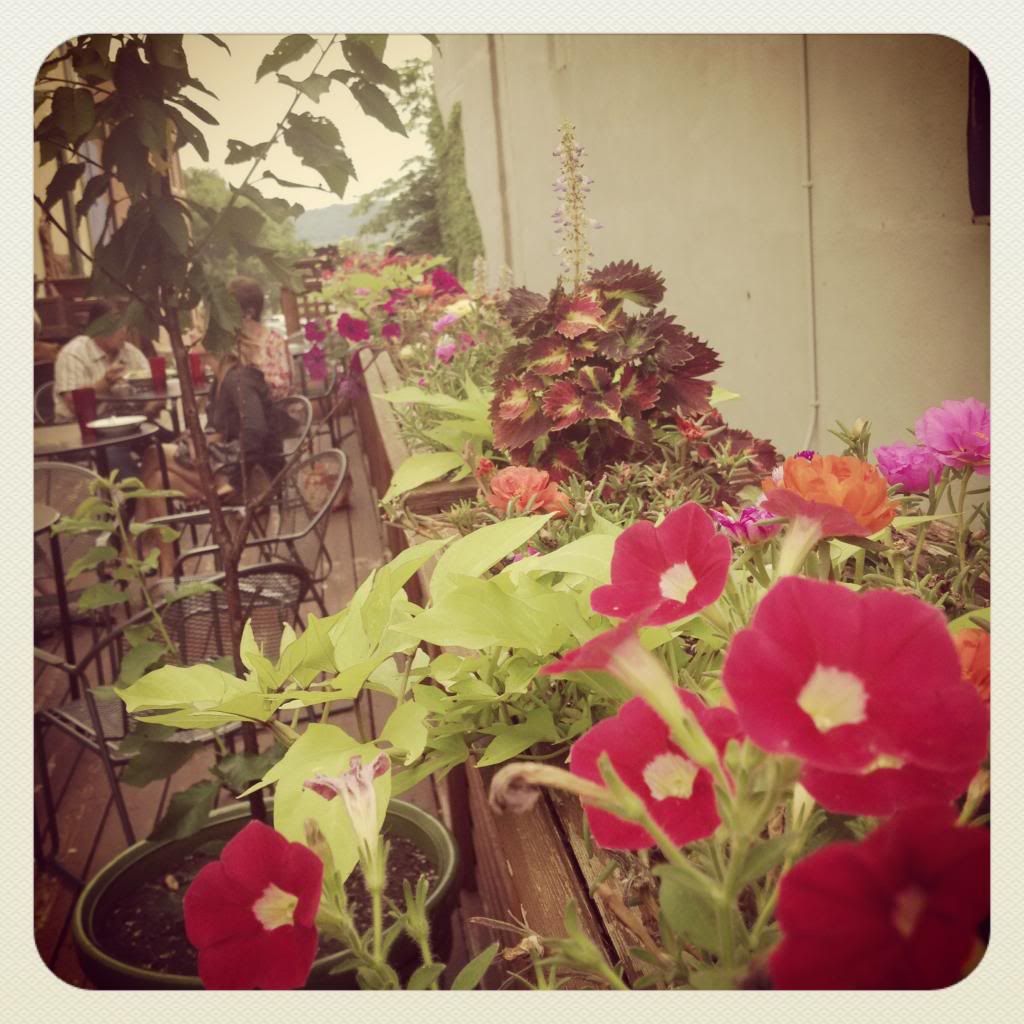 Lola's Larkspur Market, New Ulm, Minnesota. Lola's is a nice little hipster café in downtown New Ulm. The design/décor inside is comfy, eclectic, and cool. You can eat inside or on the patio, which at the time of my visit was covered in pretty flowers in full bloom (see above photo). I ate here many times during the course of my visit. My first experience there was a disappointing pupusa that was the day's special (I think maybe the masa had gone wonky?), but I'm happy to say things only went up from there. One day I had a Cuban sandwich with some really delightful homemade pickles (honestly, the pickles were probably my favorite part of every meal I had there…slightly sweet and spicy! Yum!). The café also has a full menu of coffee and tea drinks, along with other beverages (I think alcoholic as well?), and some tasty-looking desserts and ice cream. A wide range of drinkables and eats to suit all tastes and cravings—if you find yourself in New Ulm, stop in for a bite before heading to the Wanda Gág House, the Laura Ingalls Wilder Museum in Walnut Grove, or some other nearby literary destination. Located at 16 North Minnesota St., New Ulm, MN.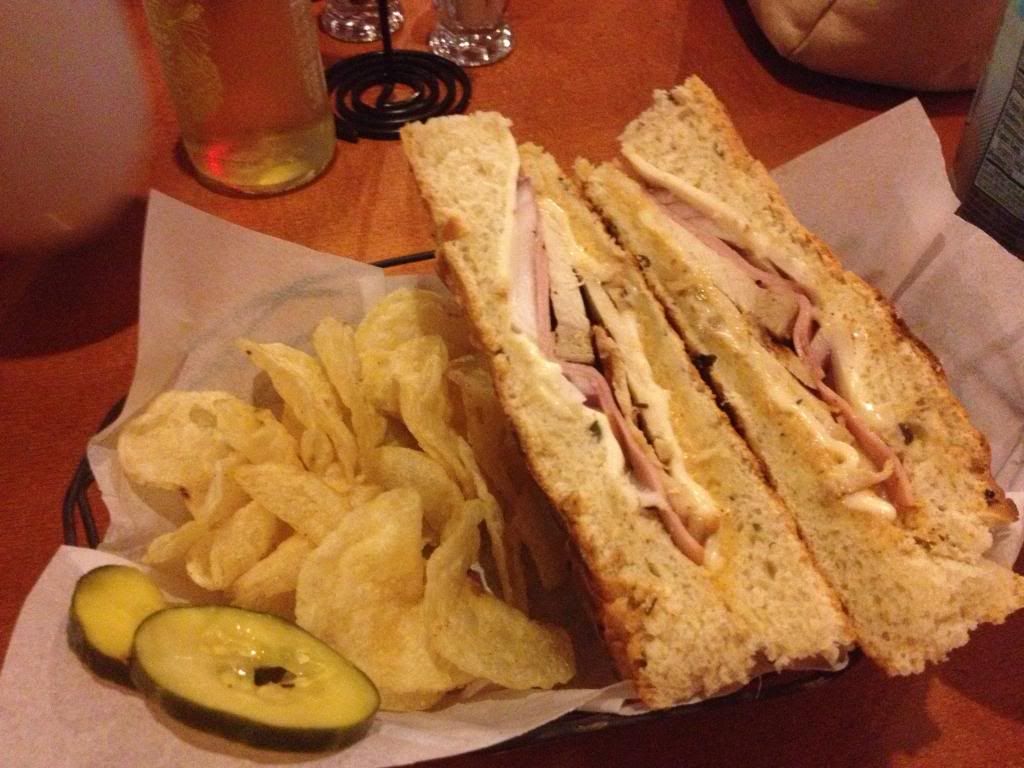 The Cuban sandwich with fantastic pickles!
Cousin had a chicken potpie with a nice, flaky crust on top.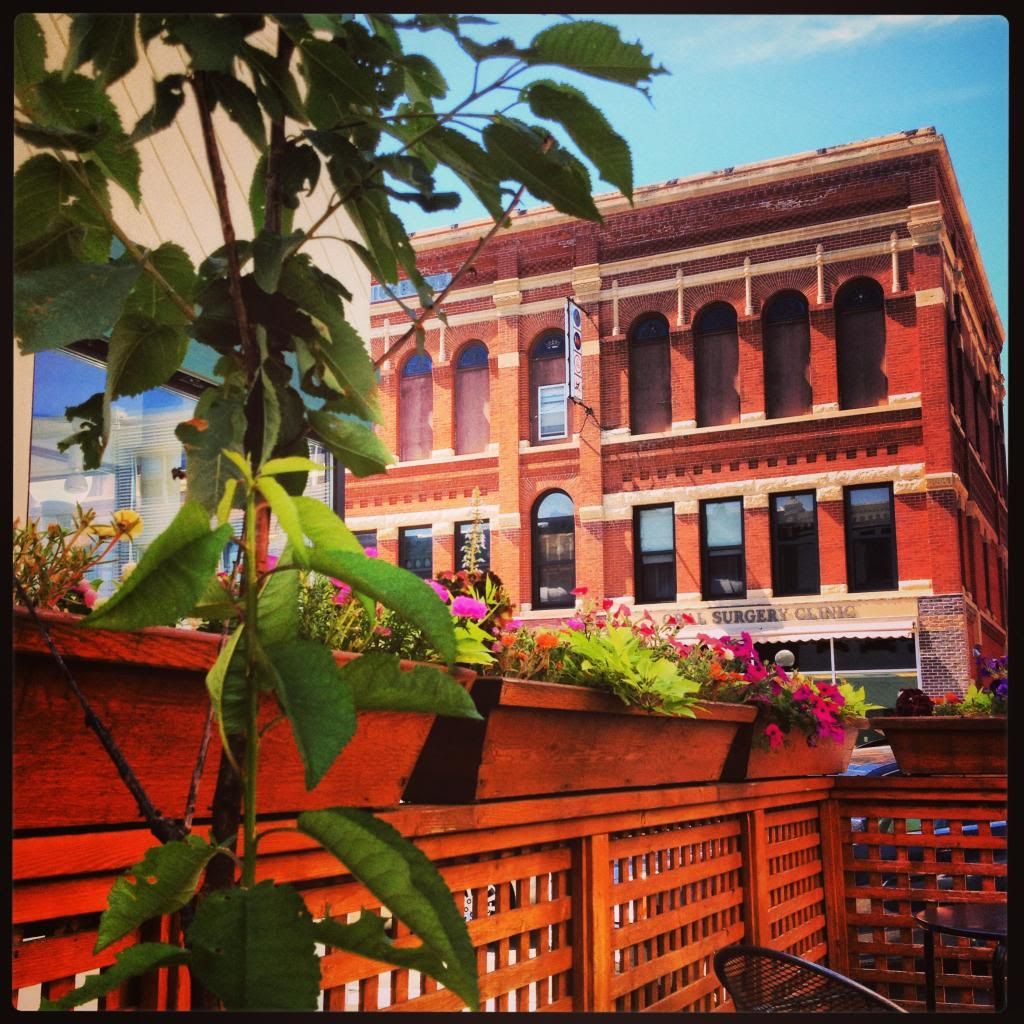 All this, while enjoying one of the best views of the main street downtown! Lovely architecture.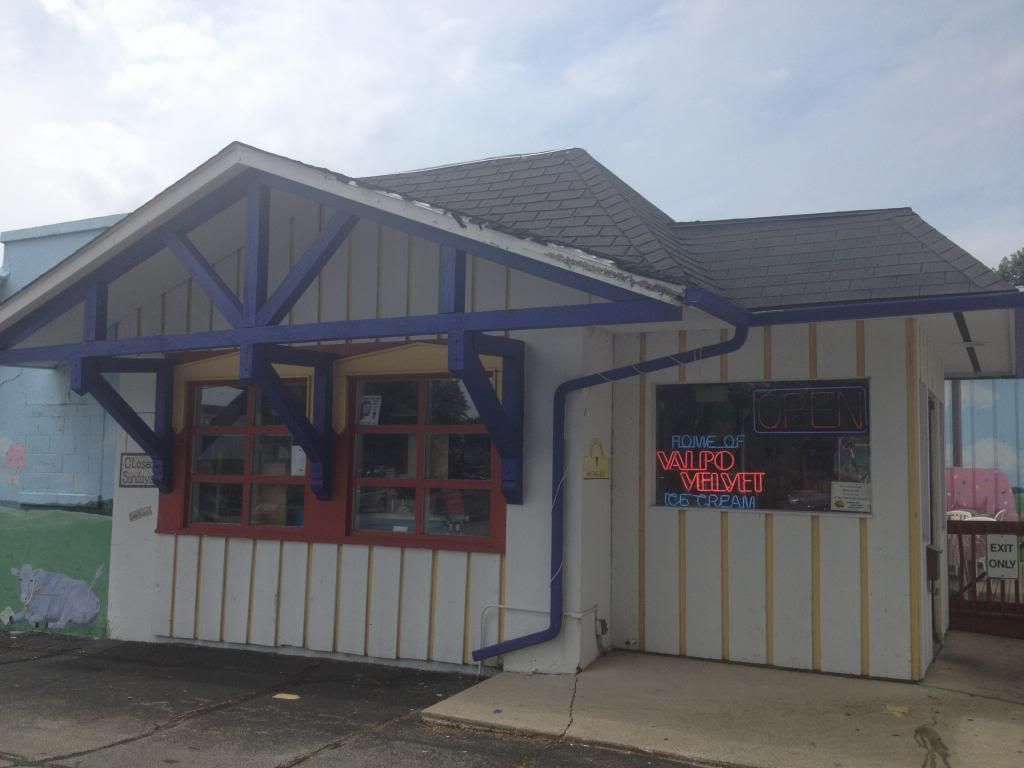 The Valpo Velvet Shoppe, a.k.a. Brown's, Valparaiso, Indiana. While searching for this restaurant's website, I was a having some difficulty because I couldn't find one. Everyone in my family always refers to it as "Brown's"—that's the name of the family who owns and runs it, my relatives know them (indeed, many of aunts worked here in their youth!), and thus we always call it Brown's and that's what I was Googling. Turns out the real name is the Valpo Velvet Shoppe, after the ice cream which they are so famous for! They've been making ice cream since 1947, and there are all sorts of memorabilia and info about the history of the place decorating the colorful parlor. But ice cream's not all they're good at—they make some darn good soups and sandwiches, too. Ma and I each had a different type of breakfast sandwich, which were both so good they had disappeared by the time it occurred to me to take a picture. We also had a tasty cheesy potato soup, but strangely enough, no ice cream. Highly recommended for a light lunch or a sweet treat! Located at 55-57 W. Monroe St., Valparaiso, IN.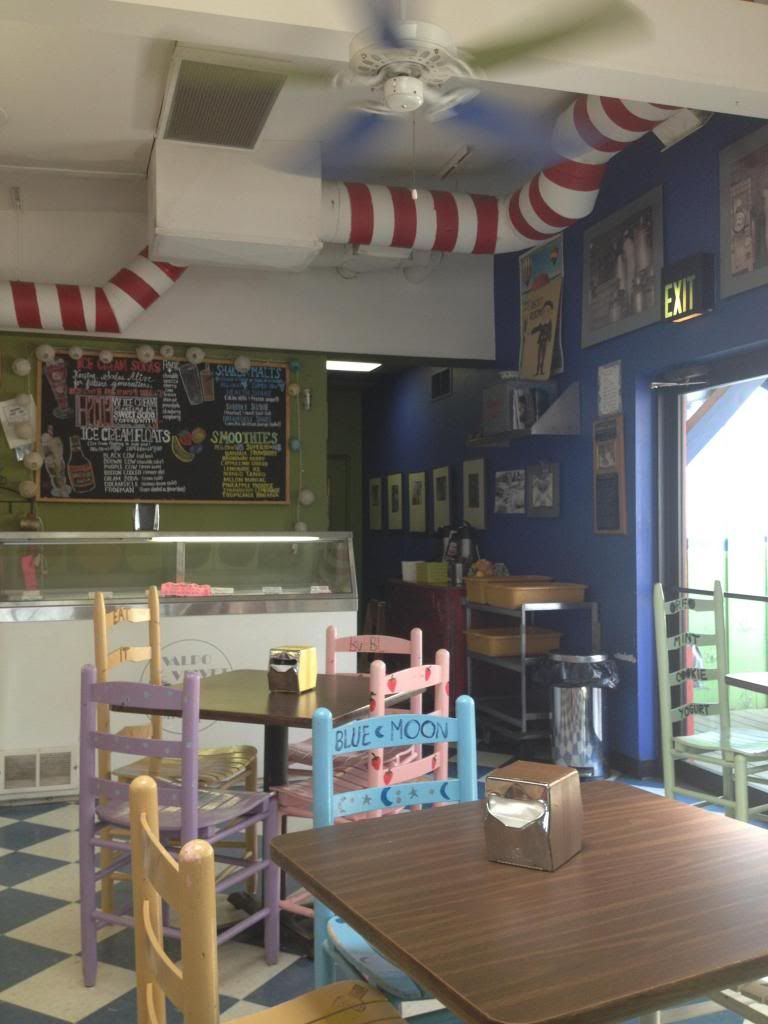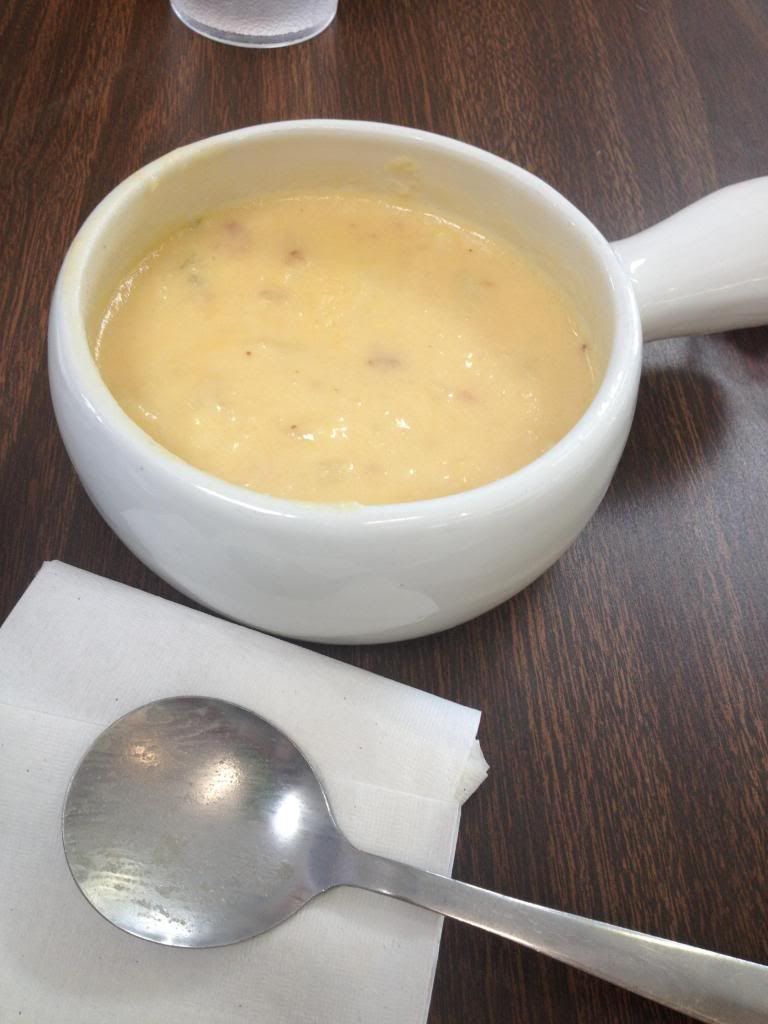 Soup and a bright, welcoming atmosphere.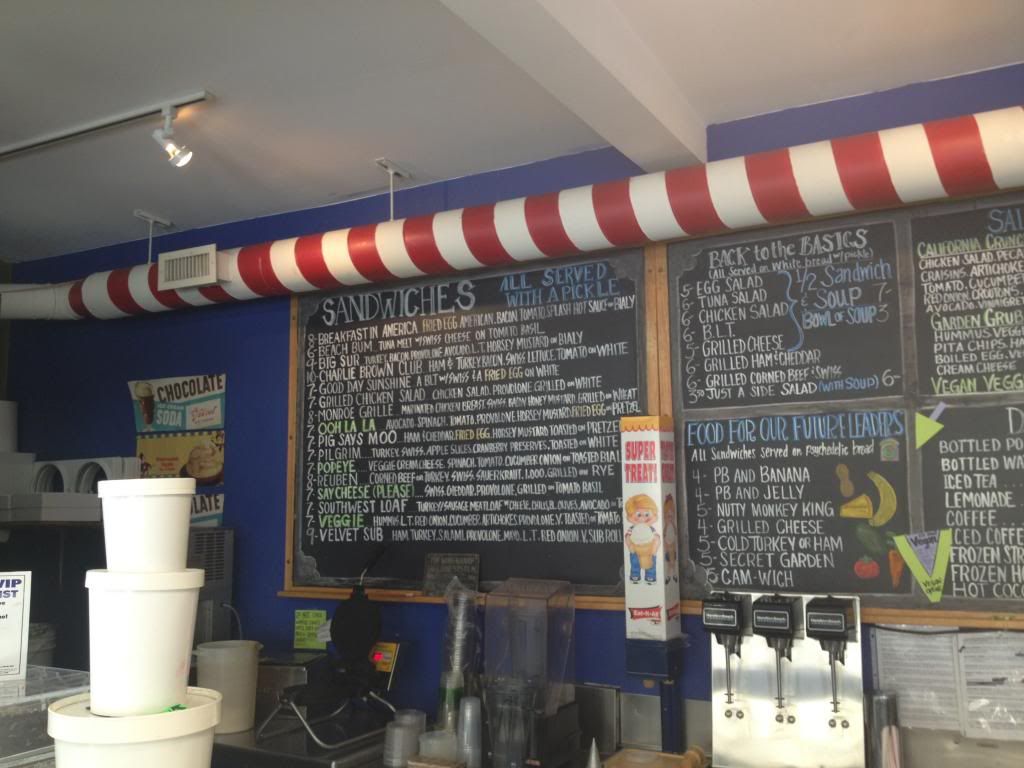 Even the menu is colorful!
Dressel's Public House, St. Louis, Missouri. Dressel's is located in a very hip-seeming neighborhood in St. Louis, and though we had to pay to park nearby, it was well worth it. Funnily enough, I had just been watching Diners, Drive-Ins, and Dives the night before, and it was an episode featuring this place. The coincidence was too much to ignore, so we stopped here for a very yummy dinner. Although the place was hopping, we were seated immediately. But oh, what to choose from the menu of locally-sourced, sustainable goodies…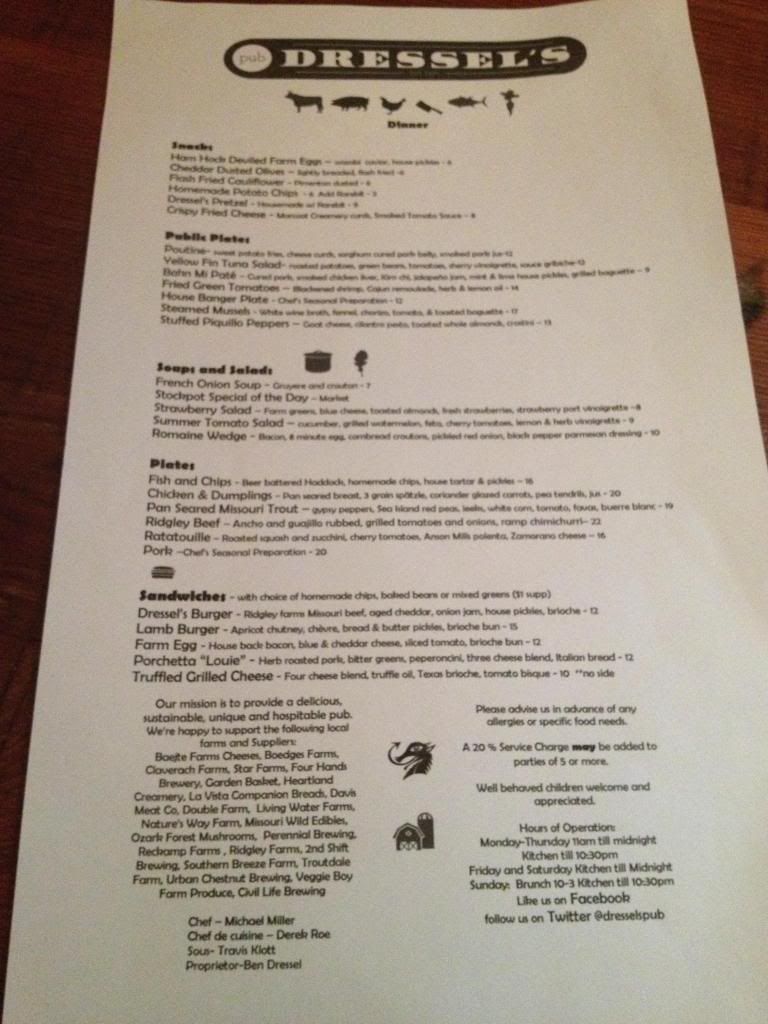 We had no choice but to start things off with the fancy deviled eggs, and from there we decided to go with the dishes Guy Fieri sampled on Triple D. The Dressel's pretzel with rarebit cheese dip was very tasty (although I could've done with a higher cheese-to-pretzel ratio), and the porchetta Louie sandwich with pork, rapini, and melty cheeses on a baguette that Guy raved about was very good, too. Of the three, though, I think my favorite was the deviled eggs! Yum. Great atmosphere, friendly staff, and awesome housemade food. Located at 419 N. Euclid Ave., St. Louis, MO.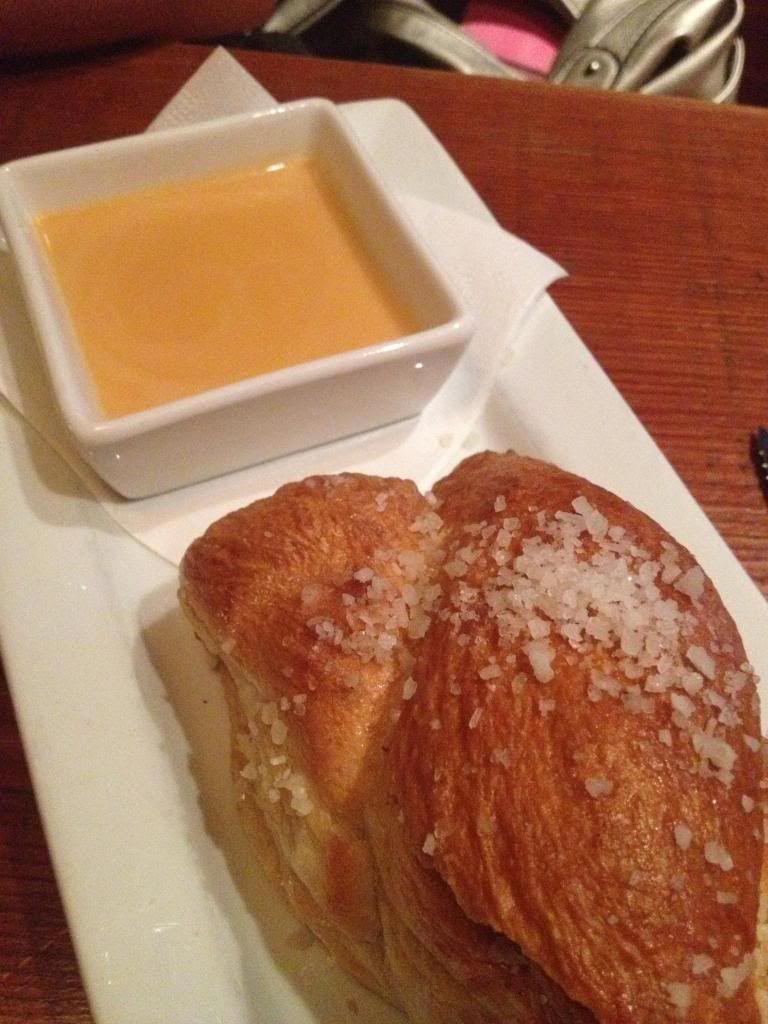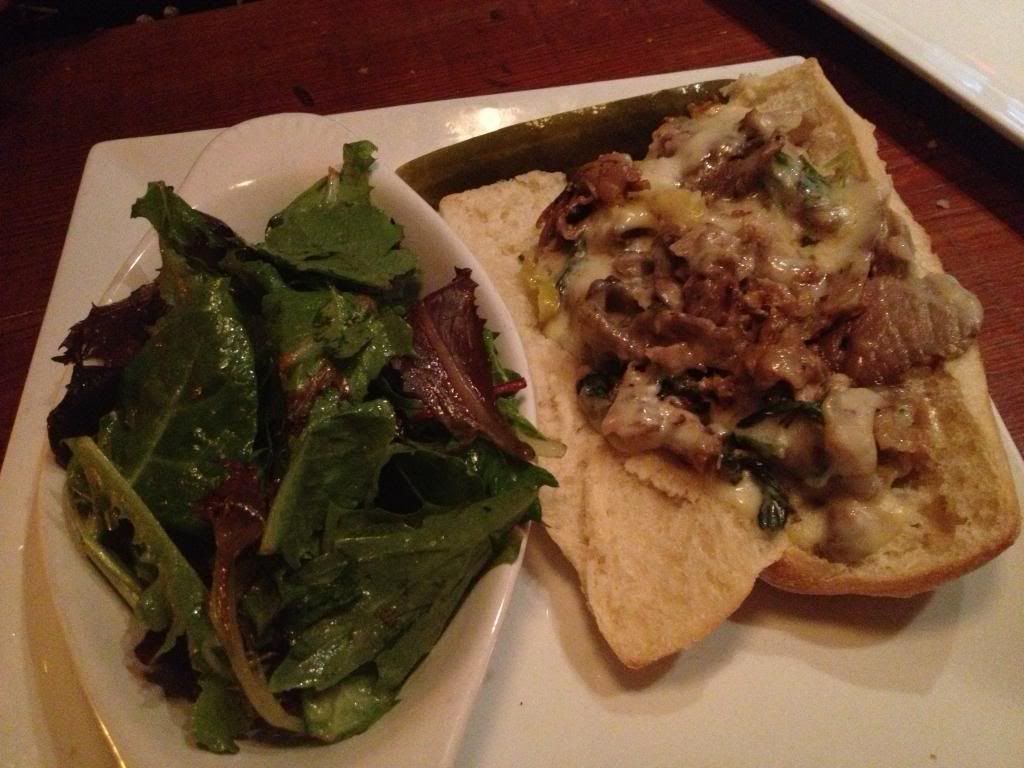 My photography didn't quite capture the porky-cheesy tastiness of the sandwich, but I assure you it was great!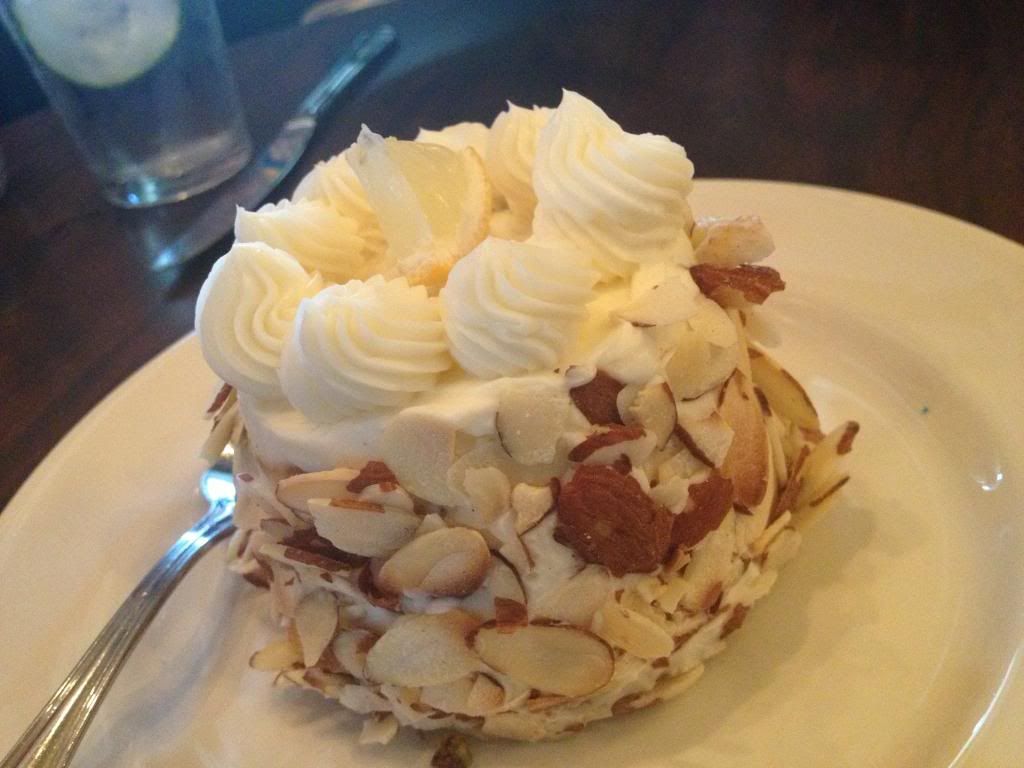 Standard Diner, Albuquerque, New Mexico. For our final Triple D stop before making it back home, we gorged ourselves at the Standard Diner. Located in a remodeled Route 66 gas station from the '30s in downtown Albuquerque, this diner puts a modern spin on comfort food classics. Having recently discovered that the only way I like Brussels sprouts is if they're roasted, we decided to start the meal off with some of those tossed with walnuts, capers, and I believe a bacon vinaigrette. It was phenomenal, and I will be attempting to recreate it in my own kitchen sometime soon. We also tried the day's soup, which I think was a roasted red chile concoction? Regardless of my poor memory where soup names are concerned, I do remember that it was scrumptious. We really didn't go wrong with the starters.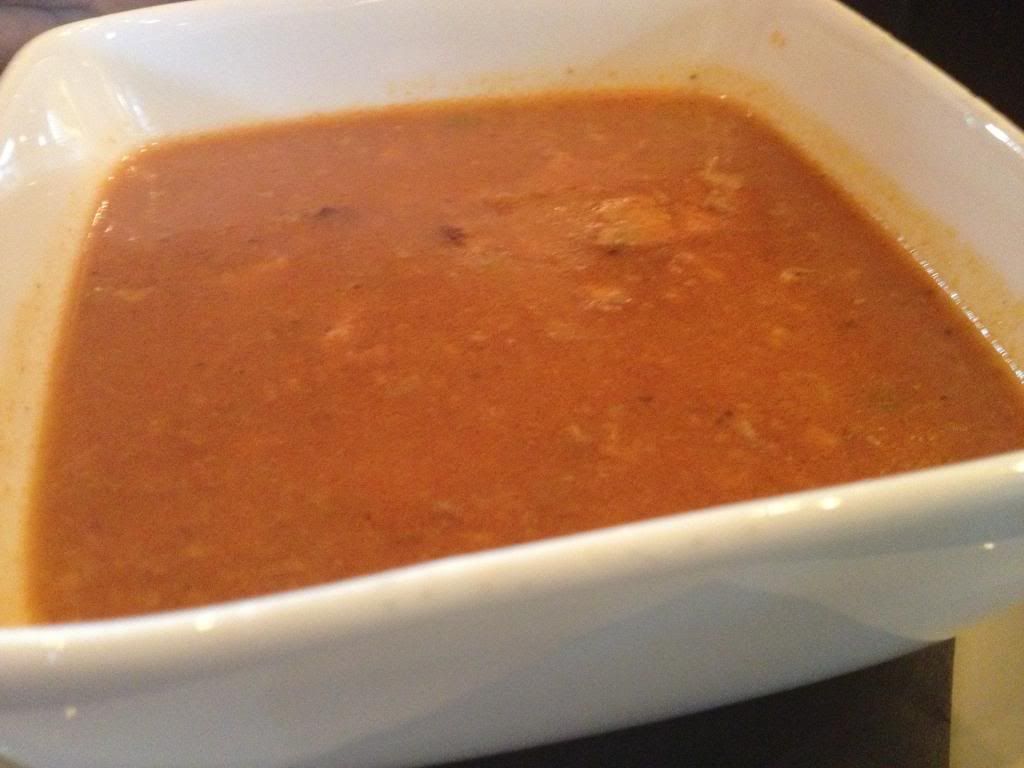 Damn good Brussels sprouts and SOUUUUUP!
At this point we may have already been starting to feel full, but we saw that as no good reason to stop. For dinner proper, Ma went with the bacon-wrapped meatloaf that Guy recommended when the restaurant was featured on Triple D, but I was having trouble deciding between the country fried tuna and the smoked salmon + green chile mac 'n cheese. When I explained my dilemma to the waiter, he suggested ordering the tuna and a kid's portion of the macaroni. Best. Idea. EVER. Thanks, waiter! (Like I said, it was a decadent meal.) We shared and tried bites of everything (the lemon risotto cake with the seared country fried tuna was quite good!), and boxed up the rest to put in the hotel mini-fridge and eat for breakfast the next morning. But did we stop there? Of course not! When you've come that far you might as well go the whole nine, so we shared a cute little cake (seen above) for dessert. And with our bellies full and happy, we rolled ourselves back to the hotel for a nice, restful food coma. And I already have my next meal at this place picked out for whenever I find myself in Albuquerque again—huevos rancheros with hashbrowns. YUM. Located at 320 Central Ave. SE, Albuquerque, NM.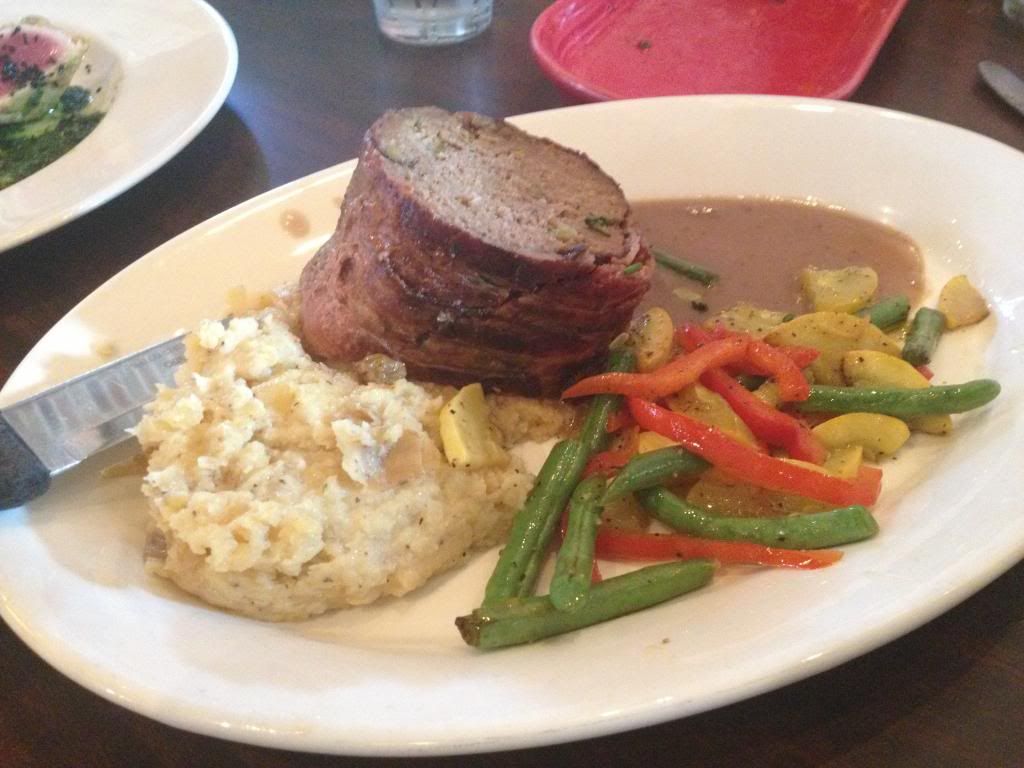 All meatloaf should be wrapped in bacon.
Country-frying tuna would not have been my first thought, but whoever dreamed that one up knew what they were about.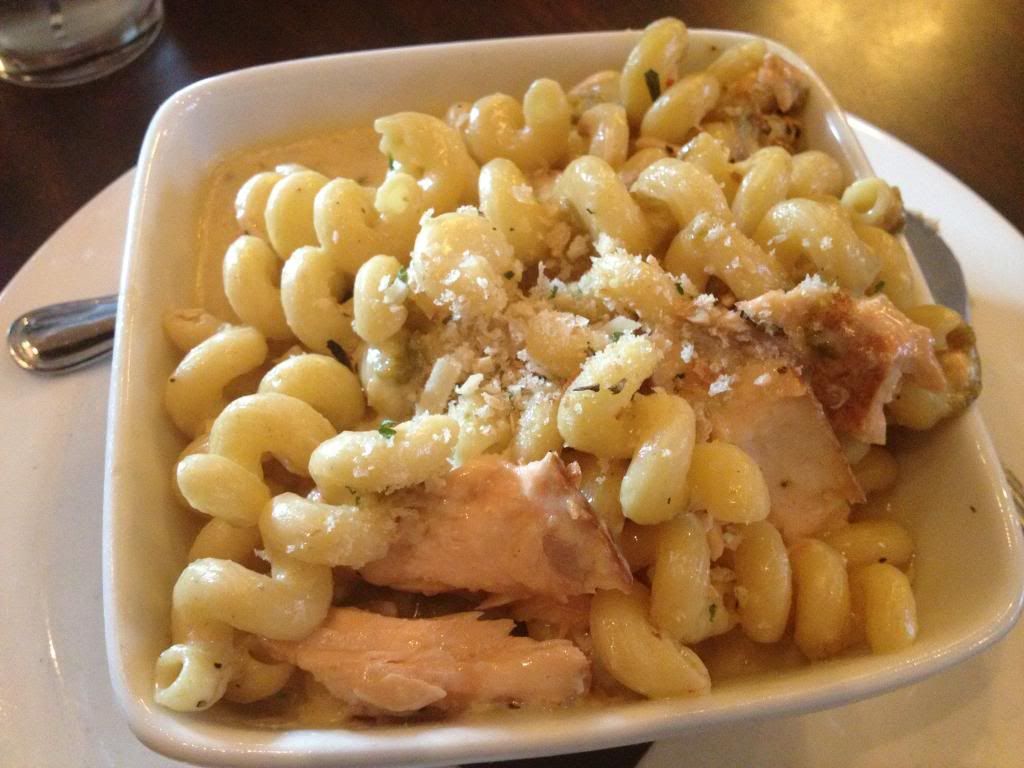 Spicy, decadent macaroni and cheese.
The Cookbooks
So far there are three Diners, Drive-Ins, and Dives cookbooks written by Guy Fieri in conjunction with Ann Volkwein, and they're full of recipes adapted from ones provided by the proprietors of some Triple D alum restaurants. There are also lots of stories from Guy and the show's crew about some of the behind-the-scenes things that went on and other stories from on the road, along with funny photos from filming and stories from restaurant owners about how being on the show changed their life and their business. The recipes aren't super-detailed and the photos included are more of the good times had in making the show than in helping you to prepare the dishes, but it's enough to teach you how to make some of the good stuff that's graced your TV screen. And if you're a fan you might already have an idea of how things should look and how to make them from watching the show! The printing is done in black and white with either blue or red ink thrown in (depending on the book) to liven up the pages a little. Of course I prefer full-color given the option, but this makes them a little more affordable than their color-printed brethren, with a list price of about $20 each. Ann Volkwein and Guy seem to have collaborated really well to end up with a finished product that captures Guy's personality and way of speaking in a book that makes you feel like one of the crew. They read a little like scrapbooks of the show with recipes included, and there is a handy checklist in the back of each with the addresses and phone numbers of all the restaurants featured on the show at the time of publication. Especially enjoyable for fans of the show, but still interesting for other Triple-D-uninitiated, food-interested folk, these are a lot of fun. Fun fact: Standard Diner's bacon-wrapped meatloaf and Pok Pok's Vietnamese chicken wings are featured in the most recent one!
Rating: 3.5 Red Convertibles


Diners, Drive-ins, and Dives: An All-American Road Trip…with Recipes!
by Guy Fieri and Ann Volkwein
Published by William Morrow Cookbooks (2008)
Read in Fall 2013; Got it at the library
More Diners, Drive-ins, and Dives: A Drop-Top Culinary Cruise Through America's Finest and Funkiest Joints
by Guy Fieri and Ann Volkwein
Published by William Morrow Cookbooks (2009)
Read in Fall 2013; Got it at the library
Diners, Drive-ins, and Dives: The Funky Finds in Flavortown: America's Classic Joints and Killer Comfort Food
by Guy Fieri and Ann Volkwein
Published by William Morrow Cookbooks (May 14, 2013)
Read in Fall 2013; Got it at the library
What are your favorite local dining gems?