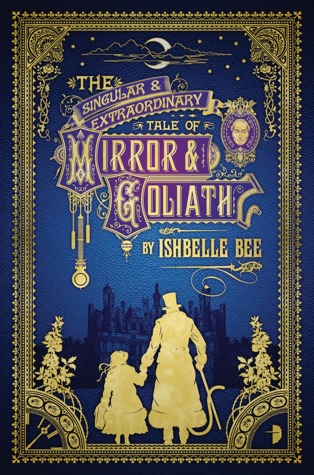 Title:
The Singular & Extraordinary Tale of Mirror & Goliath
Author:
Ishbelle Bee
Publisher:
Angry Robot
Publication Year:
2015
Read:
July 2016
Where It Came From:
eARC from publisher via NetGalley + Hard copy from library
Genre:
Dark-fantasy-fairy-tale-for-grown-ups
Rating:
4.5 Ladybirds
If your preference is for linear, straightforward storytelling and practical prose in your reading, this might not be the book for you. That disclaimer out of the way, however, I can assure you that I loved this book. Really, really loved it. Y'know, I really hate comps for describing books, because they usually end up being completely off in the ways that matter, but the comps to Catherynne Valente and Neil Gaiman on the back cover did a nice job of approximating the feel of this book. I would add to that a bit—Valente and Gaiman by way of Dickens and Carroll, resulting in something that is in conversation with those authors, but unique in its own right.
Mirror is a young girl traveling back from Egypt with her protector Goliath Honey-Flower. However, Mirror has not always been Mirror—she used to be Myrtle, with two sisters and a sinister grandfather, living in Victorian London. But then her grandfather locked her in a strange clock to die, and something changed, and when the policeman Goliath rescued her and sent her grandfather to prison, something was different. For Goliath, too. No longer a policeman, he can change shape and is determined protect his young charge and help her solve the mystery of what happened to her in the clock.
John Loveheart was an aristocratic young boy, with a sick mother and an evil aunt and a father in over his head. When a demon called Mr. Fingers comes to collect his due from John's father, John finds himself orphaned and then adopted by the Lord of the Underworld. Driven mad and wicked (though not as wicked as some), now he is a young lord, bound to do Daddy's bidding around London, and Daddy wants Mirror. Something powerful that has escaped Mr. Fingers for some time resides in her, and he believes consuming it will add to his power.
There are many other characters and plots and tangentially related stories interwoven around this basic story, which may at first seem disparate, but weave together beautifully to form a beautiful whole of interrelated people, pieces, and parts. The climax of what might be called the main plot occurs about a third of the way into the book, and then the reader is left teetering on that edge as the following chapters change narrators and settings and jump back and forth in the timeline (that nonlinear storytelling I mentioned earlier). This could've had the potential to be confusing, but in fact has the effect of filling in the story and backstory around our central tale of Mirror and Goliath and Loveheart and Mr. Fingers, giving a greater view of the world and the events of the story, with all of the interconnected threads lending it a great emotional resonance.
The beautifully poetic writing only adds to this emotional resonance, and is evocative in an almost synesthetic way. It's probably what some may call "purple prose" (which I just think some people use as a pejorative way to refer to lyrical writing when it's not to their tastes), but I think its lyricism holds magic and power. This story is at its heart a fairy tale, and a dark one—modern in many ways, but as old as time in others, with that current of magic and power and truth you can feel in the old tales, and when you're lucky, in the new ones, too. It may not be a book for everyone, but it was definitely a book for me.

*As ever, much as we are grateful for the copy, our review is uninfluenced by its source.