Title:
Ivan Ramen
Author:
Ivan Orkin
Publisher:
Ten Speed Press
Publication Date:
October 29th, 2013
Read:
December 2013
Where It Came From:
eARC from publisher via NetGalley*
Genre:
Cookbook-food-memoir
Rating:
4 Slices of Chashu
I'm always interested in the experiences of other foreigners in Japan, having been one myself, and I'm also always interested in things published by Ten Speed Press (remember this lovely?). Based on these two facts, I was definitely planning on having a look at Ivan Ramen from the moment I first heard about it. The subtitle is "Love, Obsession, and Recipes from Tokyo's Most Unlikely Noodle Joint"—I was completely on the same page with regards to the love and obsession I bear ramen (we're talking Japanese ramen here, not the stuff you can grab at the grocery store for the low price of a dime and elevated blood pressure), but I had never before heard of this Tokyo ramen shop owned by an American guy. Of course, I'm certainly not an expert on everything that happens within Japan's borders, and when I was living over there I wasn't in Tokyo, had no TV, and was not super into the ramen following. But my curiosity was definitely piqued by a) the story of a white dude opening a ramen place in the ramen motherland, and b) actual ramen recipes, which are not too easy to come by in English.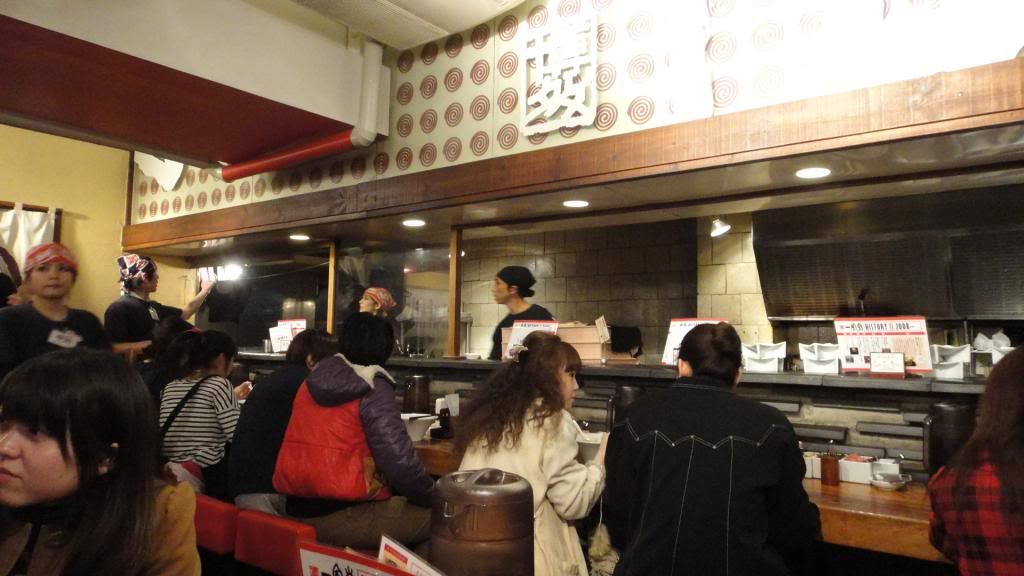 While we were living in Japan, a friend and I made a pilgrimage to the famous ramen restaurant Ippudo in Fukuoka.
It was a busy place, but we were seated right away and the food was GOOD!
The first 90 pages of the book are straight up autobiographical prose. As Ivan states on page 3, "I'm a chef. I don't really open a cookbook to cook from it, and I don't know if many people do. I read cookbooks because I want to know why someone cooks the way they do, how they arrive at their recipes." In that same vein, I found it very interesting and enlightening to see the meandering path he followed in life to get from being a high school student dishwasher at a Japanese restaurant in Syosset, New York, to a man living with his family in Tokyo and opening restaurant to present his own spin on ramen to a discerning (to put it lightly, perhaps) Japanese public. This section covers the broad strokes of his personal and professional life, from his origins as a food-obsessed kid growing up in a not-food-obsessed family, to the initial interest in Japan and its cuisine kindled during his time as the aforementioned dishwasher, to majoring in Japanese in college, to teaching English in Japan after graduating, and to his first encounters with ramen. He talks about how he eventually decided to buckle down and pursue a career in food after returning to the States, and how he moved from working at a very famous restaurant to the corporate cooking world. He also experienced tragedy when his first wife (whom he met while teaching English in Japan) died, leaving him and their son devastated, but eventually he remarried and moved to Japan with his new, blended family. Through all of this, you can see the strands spun out and coming together to lead to his decision to open a ramen shop, and it's rather inspiring to read about how he integrated with the local community and met all the challenges involved in making the restaurant happen. It's fun to relive with him the experience of becoming famous not just for the novelty of white-dude ramen, but to be critically praised, and to have success at the level where he was able to open more shops and move back to NYC and open a branch there, too.
After the reader has gotten some context and learned a bit about who Ivan is and how he got to where he is now, it's on to the recipes! I'd always heard about the complexities of ramen and how complicated it is to make, but beyond that everything had been shrouded in mystery. Making ramen at home just wasn't something that was done amongst my friends and acquaintances in Japan—it was always a dish you went out to eat. Ivan does an excellent job pulling back the curtain a little while still retaining some of ramen's mystique, and he explains things in a way that makes sense and demonstrates the Japanese culinary tradition. He reveals to us the heart of ramen-making, and he is true to that heart, but at the same time he isn't afraid to push boundaries and put the Ivan mark on it, such as with his nod to his Jewish heritage through rye noodles and the schmaltz included in his signature ramen.
He provides the entire recipe for shio (salt) ramen, exactly as it's prepared at his shop. It's admittedly a bit intimidating, but he's aware of this and has ideas for how to break up the steps, how to make enough of all the components to preserve for later ramen batches, and how to use components in other recipes so nothing goes to waste. He says ramen made at home is the epitome of slow food, and reassures us that the effort is completely worthwhile. The recipe for shio ramen is presented in a sort of work-backward way, with the first recipe being for making the complete bowl when you have all the components all cooked up and ready to go in front of you. Following that are the recipes for making each of these components from scratch—chicken fat, pork fat, shiotare (a kind of seasoning mixture) using sofrito, katsuobushi salt, double soup using dashi and chicken stock, toasted rye noodles, menma (cured bamboo shoot), chashu (delicious slices of pork belly), and half-cooked eggs. I know, I know…it's a lot. I can imagine your goggling eyes through the computer screen. But before you get overwhelmed and abandon all hope of making ramen at home, Ivan emphasizes that you shouldn't put pressure on yourself to make it perfect. He recommends making a few of the components from scratch to start with and getting the rest readymade, and eventually building up to do the whole shebang. He also encourages you to make it your own, just as he did when developing the recipes for his restaurant.
After all the instructions on how to make a complete bowl of shio ramen, he moves on to other recipes, from the traditional to the not-quite-as-traditional, to put to use the basic ingredients that you so lovingly made from scratch. Examples from the traditional camp are recipes for ozoni, a soup with rice cake eaten on New Year's Day (yum), and dashimaki tamago, a kind of sweet rolled egg omelet. In the realm of things universally appealing enough that even picky eater children would probably happily nom them, we have a recipe for chicken cutlet fried in schmaltz and some tasty-looking chicken teriyaki. Some of my favorites in the less-traditional offerings are the recipes for a chashu Cubano sandwich and breakfast yakisoba. He also shares recipes for some of the other noodle dishes from his restaurants and has a chapter dedicated to sides and sweets. The roasted pork musubi (a kind of rice ball) and the lemon sherbet from that section sound particularly delectable to me! He also is sure to include information about sourcing ingredients, which is always valuable to home cooks stepping outside their usual cooking arena. The lovely color photos feel like a scrapbook of his life and are evocative of Japan and the characters he met there, and, most importantly, they make you crave the food!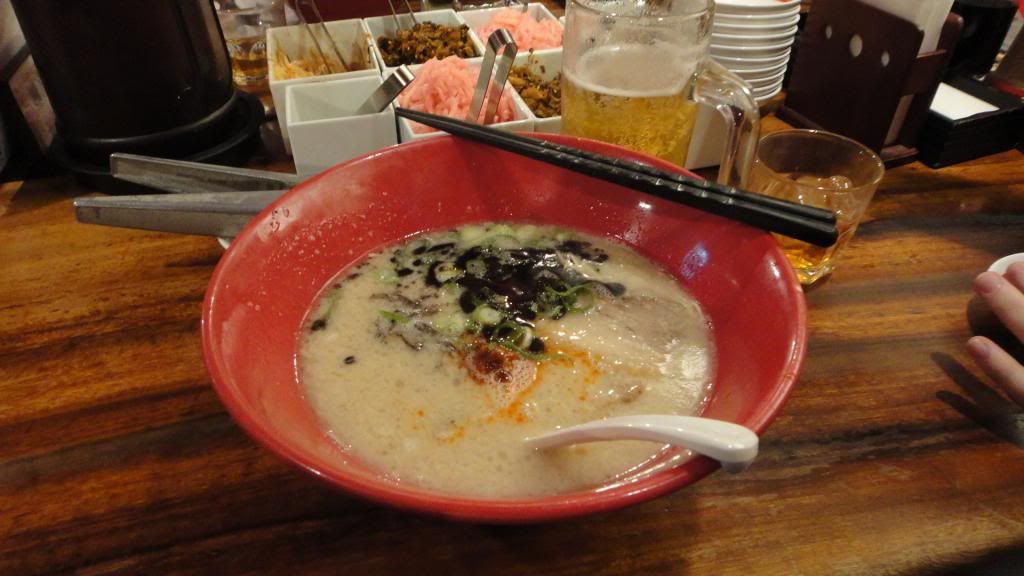 This is the regional specialty Hakata-style tonkotsu ramen that we tried in Fukuoka. It's made with a whole lotta pork fat, and while undeniably delicious, it's also a bit of a "gut bomb," as Ivan calls it.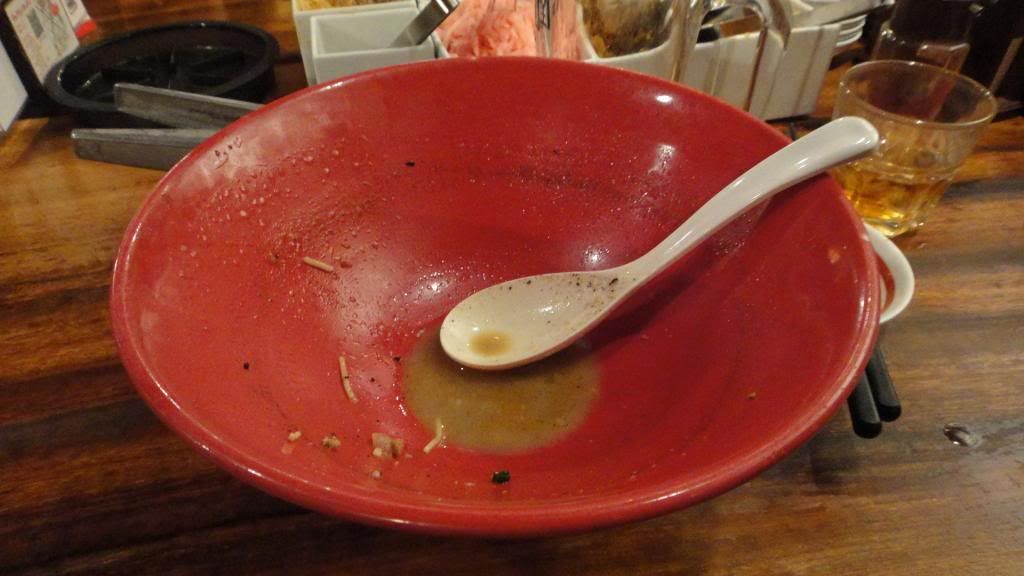 But that didn't prevent us from polishing it off! Thank you, Ashley M., for letting me borrow your photos from our Kyushu trip! (Mine mysteriously disappeared from my hard drive. :c )
The dishes presented in this cookbook look to taste both different from the ramen I ate while in Japan, and yet similar in the most important ways. It's clear that Ivan prides himself on being true to the spirit, heart, and technique of ramen-making, while being inventive, innovative, and true to himself and his heritage, too. He captures the spirit of food culture in Japan and of just plain good food. This book is great for Japan fans, noodle fans, and foodies in general. Next time I find myself in Japan I'll definitely seek out his restaurant, and in the mean time I'll work my way up to preparing his shio ramen after building my confidence and skills through some of the less-complex recipes. I'm thinking I'll start with the dashimaki tamago (I'm a little ashamed that I haven't mastered it yet!). I might even go make it right now.
What's your favorite cuisine? Or your favorite noodle dish? Hit up the comments and let us know!

*As ever, much as we are grateful for the copy, our review is uninfluenced by its source.