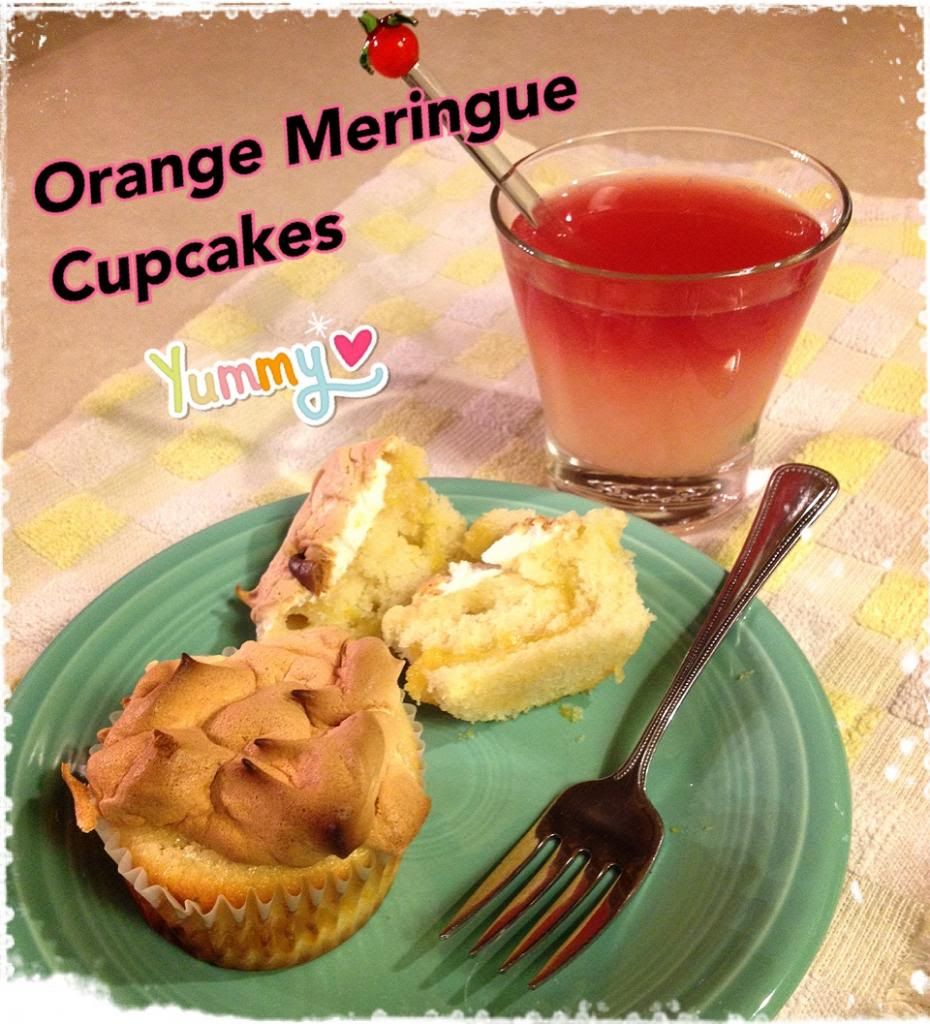 Are you ready for some blogoversary treats?!? How about some cupcakes with a surprise inside? I'm not completely sure where the idea for these came from. My mother had been talking about making an orange meringue pie, and with that as my original inspiration, my brain somehow popped out the idea of putting orange curd inside a cupcake and using meringue instead of icing. I used the Better Homes and Gardens New Cookbook's basic recipes for yellow cake, orange curd, and meringue topping as my general guidelines in creating the three main components of this recipe, and modified them as I thought would best fit my purposes as I went along. I had no idea if I could execute the idea I had in mind, but I figured I'd give it a go.
What resulted is an experience I've been affectionately calling "baking night from hell," but that was mostly due to outside factors and not any inherent hellishness on the part of these cupcakes. My old-school stove that doesn't heat evenly scorched the orange curd, I discovered mid-baking at 10 p.m. that the milk in my fridge that was to be a batter ingredient had gone bad, my cream of tartar for the meringue was probably at least 2 decades old and prevented the egg whites from setting up correctly…it was fun. But I persevered, and though the results may not have been as pretty as I would've hoped, I think the cupcakes turned out to be very tasty. The orange zest in the batter gives the cake a nice citrus punch, while the orange curd hiding inside is more sweet than tart. The meringue is a lighter alternative to icing, and it feels kind of liking you're biting into a soft cupcake cloud. Yum!
Orange Meringue Cupcakes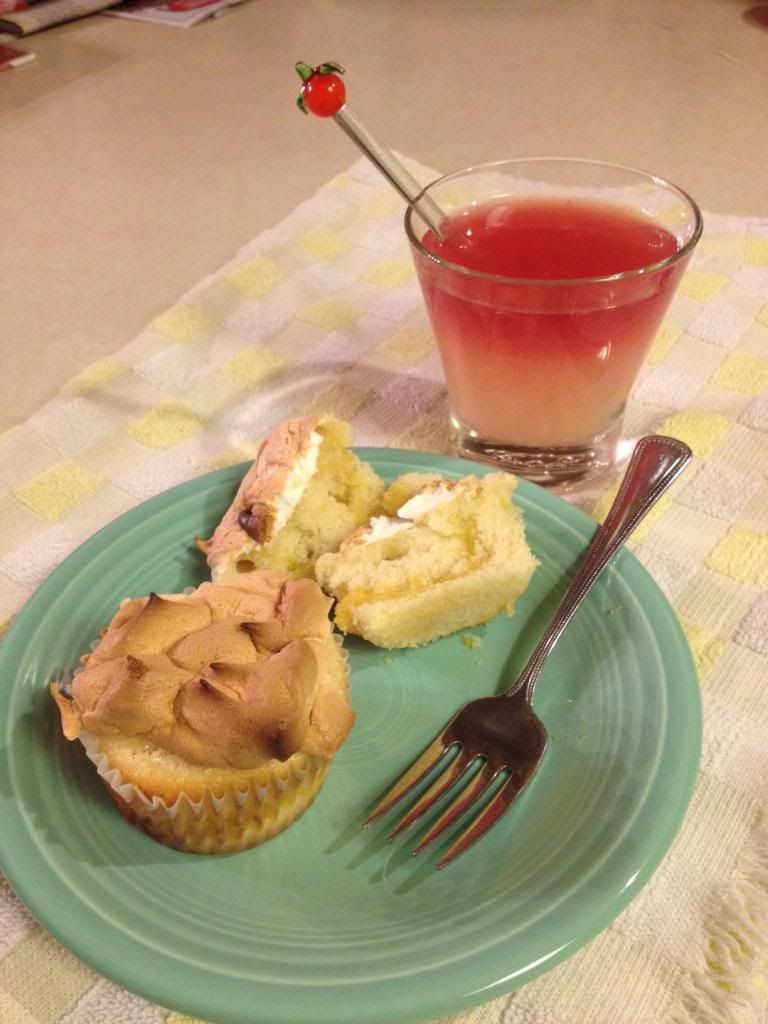 Ingredients:
Orange Curd
3/4 C. sugar
2 Tbsp. cornstarch
3 tsp. orange zest (grated finely)
1 C. orange juice
6 egg yolks
1/2 C. (1 stick) butter

Cupcake Batter
Cupcake liners
3/4 C. butter
3 eggs
2 1/2 C. all-purpose flour
2 1/2 tsp. baking powder
1/2 tsp. salt
1 3/4 C. sugar
1 1/2 tsp. vanilla extract
1 1/4 C. milk
3 tsp. orange zest (grated finely)
1/4 of a lemon

Meringue Icing
3 egg whites
1/2 tsp. vanilla extract
1/2 tsp. cream of tartar
6 Tbsp. sugar

Preheat the oven to 375º F, and put the cupcake liners in the cups of your muffin tin. Separate 6 eggs. Put all of the yolks in a mixing bowl and beat them, and set aside 3 of the whites in a small dish to be used later in the meringue. You can save the remaining whites and add them to an omelet or scrambled eggs at a later date, or if you discover you really like meringue, you can use them to make MORE of it. (Assuming you don't have decades-old cream of tartar.) Let the last 3 eggs (the ones still in their shells) and the butter to be used in the batter set at room temperature while you're preparing the orange curd.
We'll make the orange curd component of this dish first, since it will need some time to chill before we use it. Add the sugar and cornstarch to a saucepan, and mix thoroughly so the two incorporate and there are no stray cornstarch clumps lurking about. Add the orange zest and orange juice. (For me, I got enough zest for both the curd and the cake from three oranges. You can use store-bought juice or the juice of those oranges as the juice for the curd. I ended up using 3/4 C. store-bought and 1/4 C. fresh because it was what was close at hand—I find fresh OJ is sweeter than most store-bought kinds, which can be a bit tart, so feel free to use whichever you prefer.)



Orange-sugar-cornstarch mixture before heating.

Cook and stir the orange-sugar-cornstarch mixture over medium heat until it's thickened and bubbly.



Bubbly!

Remove it from the heat, and pour half of the mixture into the mixing bowl of beaten egg yolks that you set aside in step one. Quickly stir the yolks and orange-sugar mixture together in the bowl until well mixed, and then transfer it back to the saucepan with the remaining half of the orange-sugar mixture. A rubber spatula may help you to get every last bit back in the saucepan.



Mix half with the egg yolks, and then return it all to the saucepan.

Return the saucepan to the stove, and cook over medium heat until it comes to a sort of boil. I say "sort of boil," because the mixture will be thick and make more of a popping, plopping sound than an actual liquid boil. You'll need to stir the curd constantly to prevent it from scorching. If you start to see flecks of brown in it as you're stirring, that means some of the egg is getting burned on the bottom of the pan, and you should lower the heat.
After you've reaching the plopping pseudo-boil, continue to cook and stir for maybe one more minute, or until it is of a thickness that looks like you could spoon some out and spread it on toast. Remove the saucepan from the heat, and stir in the butter. When it is all melted and combined, cover the saucepan with plastic wrap in place in the fridge to chill.
Now for the cupcake batter! Add the 2 1/2 C. flour, 2 1/2 tsp. baking powder, and 1/2 tsp. salt to a mixing bowl and stir them all together.
In a larger mixing bowl, use an electric mixer to beat the 3/4 C. butter (which should be nice and soft from relaxing on the counter) on medium to high speed for about 30 seconds. Add the 1 3/4 C. sugar a little bit at a time as you continue to beat the mixture, until it has all been incorporated.
Now, add the 3 room temperature eggs one at a time, beating thoroughly after each is added. Beat in the 1 1/2 tsp. vanilla, too.
Add the flour mixture a little bit at a time, alternating with splashes of the 1 1/4 C. milk. Beat on low speed as you continue to alternately add the two until they have all been incorporated. Lastly, add the 3 tsp. orange zest and squeeze in the juice of the 1/4 of a lemon, and beat on low until combined.



Cupcake batter!

Here's where the timing gets a little tricky. We're going to take a quick break from the cake batter and move on to the meringue, so it will be ready to go when the time comes to smear it on top of the cupcakes. Add the 3 egg whites you set aside in step one to a mixing bowl, and add the 1/2 tsp. vanilla and the 1/2 tsp. cream of tartar. If your cream of tartar is years and years old like mine was, it's a good idea to just go for broke and buy a new tin of the stuff. Otherwise, there's a good chance you will have major meringue problems, which isn't fun for anyone and will dash your hopes of finishing up the cupcakes and getting to bed by midnight.
Using your (hopefully cleaned of cake batter) electric mixer, beat the egg whites, vanilla, and cream of tartar on medium speed for a couple minutes, or until soft, rolling hill-like peaks form. I would show you a photo of this, but as I mentioned earlier, there were some serious meringue issues.
Add the sugar, 1 Tbsp. at a time, while beating on high speed for a few more minutes, or until the mixture takes on a shiny, glossy look and forms stiff, mountainous peaks. The sugar should be completely dissolved in the meringue. Here's what not to do:



I beat this stuff for 15 minutes and this was the closest I came to peaks. Moral of the story: Cream of tartar is important.

Okay, now back to the cupcakes! Take the orange curd out of the fridge, and set it up next to your bowl o' batter. Your batter should look something like this (only probably more of it):


Spoon enough batter to just fill the bottom of the cups into each lined hollow in the muffin tin. Then, plop a generous dollop of orange curd on top, and cover that with another spoonful or two of batter so the curd is mostly hidden. You should end up with each cup about 3/4 full. At first I tried to situate the curd right in the center of the cup, but it turned out that wasn't really all that important, as the cupcake liner and the baking work together to keep it in place.



Orange curded cupcakes, before the final batter was plopped on top.

Bake the cupcakes for 10 minutes. When you remove them, they should no longer be liquidy. The tops should have risen a little bit above the edge of the cups, but they shouldn't be quite golden brown yet. Use a rubber spatula to schmear a generous helping of meringue on top of each cupcake, taking care not to let the schmear touch the metal in-between areas of the muffin tin. Put them back in the oven, and bake 10-15 minutes more, until the tops of the meringue are golden brown.


Let the cupcakes cool for 10 minutes, and serve while still warm!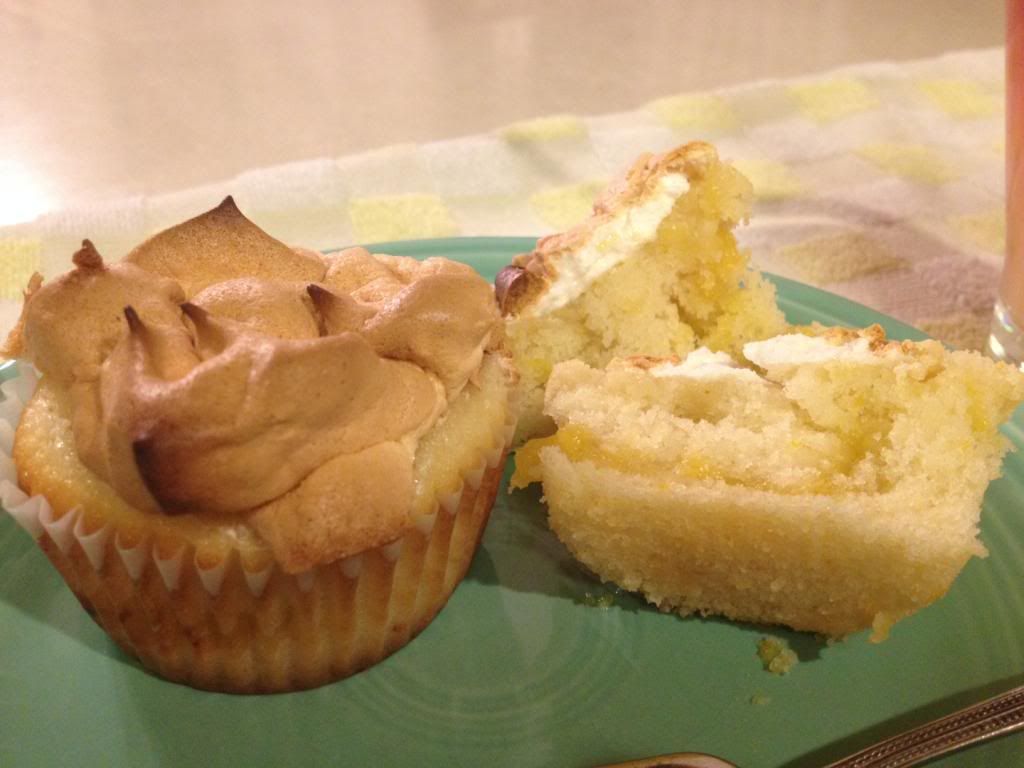 I'd like to tweak and streamline the recipe a bit in the future, but I'm happy with the way the cupcakes turned out, especially taking into consideration all the hiccups along the way! Things I've learned: Always sniff your milk before you start the baking process, start cooking at a lower heat on the stove when making something very heat-sensitive, and make sure your cream of tartar is from this decade. Now I'm going to go eat another cupcake and start looking forward to Susan's blogoversary treat recipe, which hopefully involved a cooking experience less tumultuous than mine!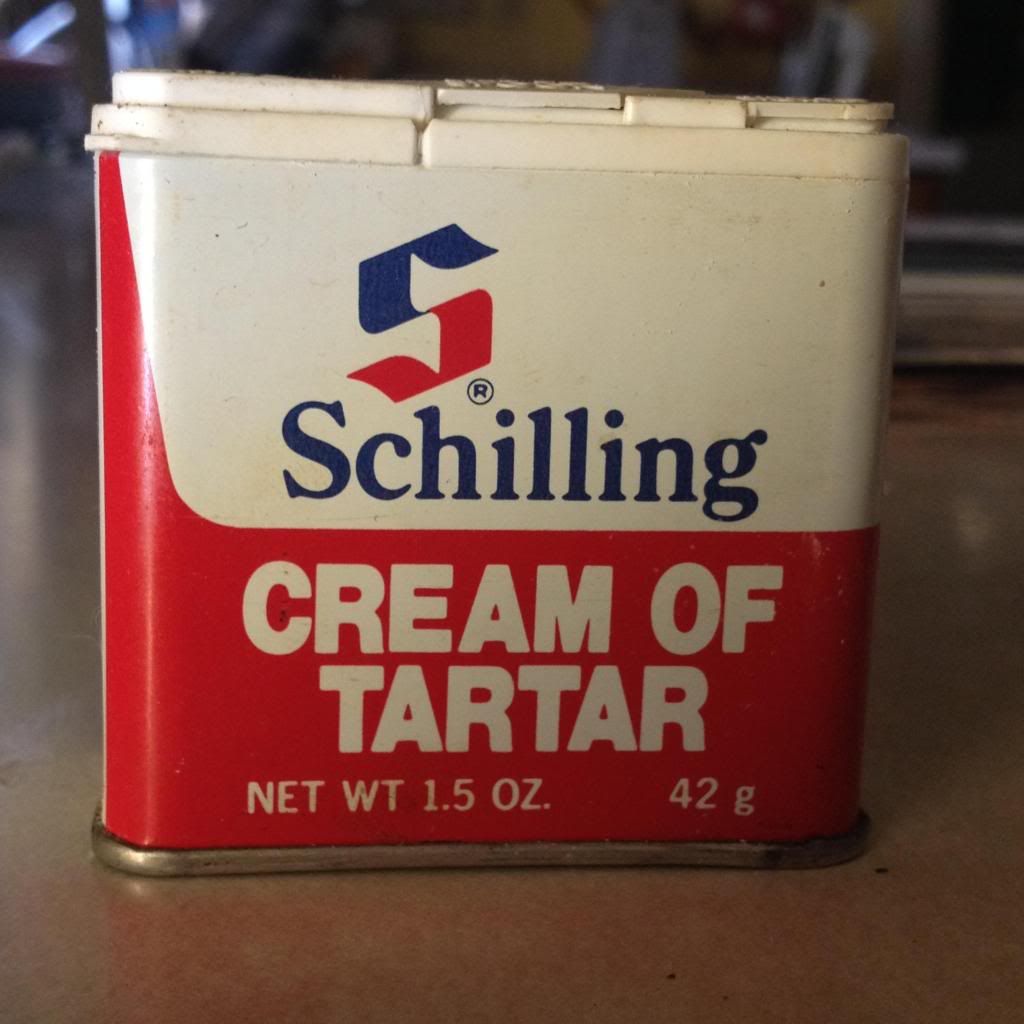 Ancient cream of tartar container excavated from my pantry.