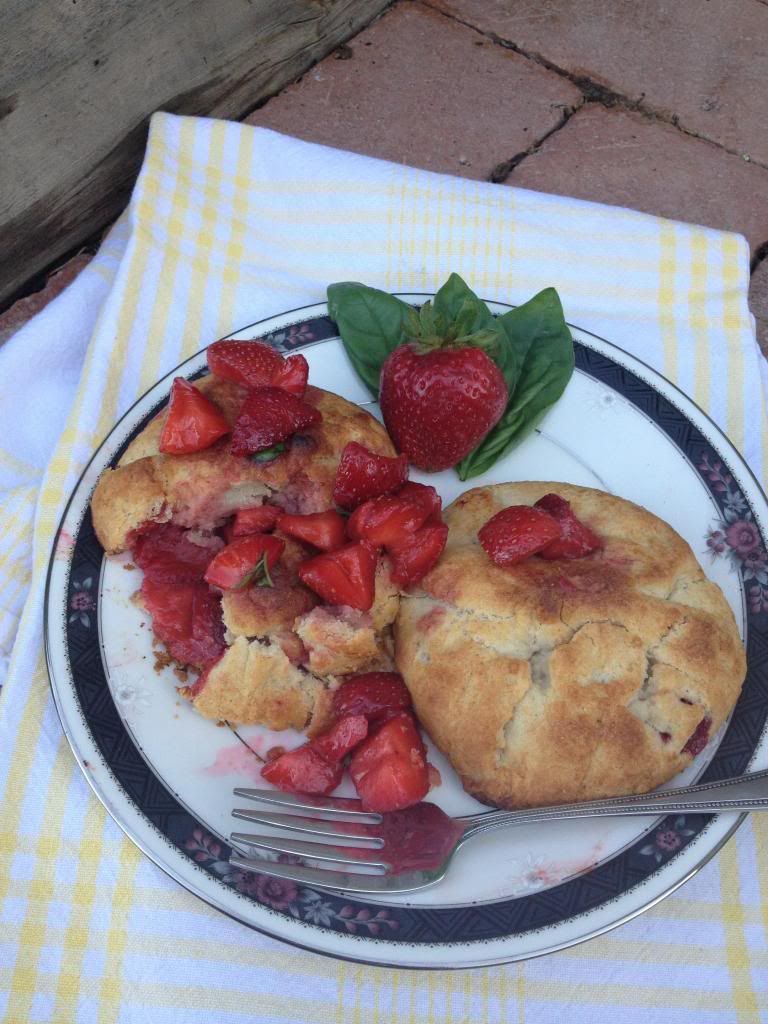 In our recent fascination with Kiera Cass' The Selection, we came across a mention of strawberry tarts:
I picked up a strawberry tart from the basket in the center of the table. [other random thoughts] I mulled this over as I bit into the strawberry tart. It was so sweet and the dough was so flaky, every millimeter of my mouth was engaged, taking over the rest of my senses entirely. I didn't mean to make the little moan, but it was by far the best thing I had ever tasted. I took another bite before I even swallowed the first. (135)
I don't think we were necessarily inspired by the description, but Susan and I were talking and decided we needed more recipes on the blog, and wanted to do another challenge, and were both in possession of strawberries at the time, and remembered there were strawberry tarts in a book we had read recently. Ergo, we both invent strawberry tart recipes!
I decided I wanted to make little ones (since in the book the prince sends a bunch of them to the heroine's family—doesn't make much sense to send lots of full-size tarts, so I interpreted that to mean that they were mini), and quickly decided on a dough-purse construction rather than the traditional tart crust. I also remembered I have basil plants proliferating in the garden, and thought basil would add a little something different to the strawberries.
I realized this was probably going to end up being a little apple dumpling-like (only with strawberries) and I wanted to have a nice, flaky crust reminiscent of the family shortcake, only in dough form. I adapted the dough from this Cook's Country apple dumpling recipe to surround the strawberry-basil filling. The result is 8 cute little strawberry tart-dumpling-turnover-shortcake-pouches! They taste nice with, a) extra strawberries added on top, (b) a little milk poured over them, (c) some whipped cream, or (d) all of the above.
Strawberry Basil Tart-Pouches
Dough
2 1/2 C. all-purpose flour
3 Tbsp. sugar
2 tsp. baking powder
3/4 tsp. salt
1/2 tsp. ground cinnamon
1/2 tsp. ground ginger
1 1/4 sticks of butter (10 Tbsp.)
5 Tbsp. vegetable shortening (if trans fats freak you out, you can substitute lard or more butter, although if you use more butter you will sacrifice crust flakiness)
1/4 C. buttermilk (or you can substitute 1 Tbsp. white vinegar mixed with a little less than 1 C. milk if you don't want to buy a bottle of buttermilk just for one recipe. Let the vinegar/milk mixture sit for 5 minutes, and you're ready to go)
Filling
4-5 C. strawberries, hulled and chopped
1/4 C. sugar
4-5 fresh basil leaves
1/8 tsp. ground cinnamon
1/8 tsp. ground ginger
1 tsp. honey
Tasty Stuff to Brush on Top
1 Tbsp. butter
1 tsp. honey
Sugar for sprinkling


Make the dough first, since it will need time to chill in the fridge. Add the flour, sugar, baking powder, salt, cinnamon, and ginger to a food processor. Process it until well mixed. Don't be silly like me and forget to put the blade in before dumping in the dry ingredients.

No, no. It should look more like this. Also, don't forget to add the spices.

Take your butter and shortening out of the fridge. They weren't in the fridge, you say?! Put them in the fridge for a bit. We want them chilled. I will wait. ((waits))
Okay, now cut your chilled butter and shortening into cubes about of about 1/2-inch, and toss them in the food processor with the dry mixture.

Pulse the mixture until well combined. You might need to stop and get in there with a spatula to break up the mixture and put it in the path of the blade again. It should end up looking something like this:

Scrape it out of the food processor and into a large mixing bowl, breaking up large chunks with your handy dandy spatula. Either with a spatula or a wooden spoon, slooowly add buttermilk or your faked buttermilk and stir it in until it starts to become dough-like. For me, that ended up only being about 1/4 cup. Just add a little and stir, add a little and stir, until it reaches the right consistency. You don't want to add too much buttermilk and end up with a soupy mess that you can't roll out later.

Sprinkle some flour on your (clean) countertop, put the dough on top, and knead it a bit until the dough sticks together. After kneading, you should be able to form a nice, non-sticky dough ball that holds its shape.

Flatten the ball out a bit and wrap it in plastic wrap. Throw it in the fridge until it firms up, which should take about an hour.
In the mean time, we can get to work on the filling. Hull and chop your strawberries, and put them in a medium-sized mixing bowl.

Add the sugar, cinnamon, ginger, and honey. Wash and tear the basil leaves into small pieces, and add them as well. Mix well until everything is well incorporated, and let it sit for 30 minutes. This lets the juice come out of the berries (which is apparently called maceration. I learned something new today!), but any longer than 30 minutes and they'll get mushy.

Has it been an hour? Preheat the oven to 400 o F. Then, take your dough out of the fridge, divide it in half, and roll out one of those halves on a floured surface. If you find your dough sticking to the rolling pin, you can use your hands to press it out flat. Then, divide that into four equal sections.

Take one section, roll it into a ball, and then press it out flat again into a circle. The dough should be about 1/8-inch thick. You don't want to make it too thin, or it will tear when you try to gather it up into a pouch.
Use a slotted spoon to scoop up some of the strawberry basil mixture and let the juice drip out back into the bowl. Plop the strawberries into the center of your pastry dough circle, and then gather up the edges and pinch them together at the top, forming a little pouch of deliciousness.

Repeat this process with the other 3 sections of dough. Line a baking sheet with parchment paper and place the 4 tart-pouches on it.
Using the microwave, melt 1 Tbsp. butter in a small bowl. Mix in 1 tsp. honey, and brush the mixture on top of the tarts. Sprinkle with sugar, and bake in the oven for 20-25 minutes. Remove from the oven when the edges begin to turn golden brown, and transfer to a cooling rack.

Complete the dough rolling and division with the second half of your dough to make 4 more tarts. Prepare and bake them in the same way.
There will probably be some of the strawberry mixture leftover. Use this and the juice to top the freshly baked tart-pouches, and milk or whipped cream can also be added for maximum deliciousness.